Two sea lions and two elephant seals sickened in the oil spill near Santa Barbara are being rescued and cared for by SeaWorld San Diego.
A sea lion and elephant seal arrived Friday to be treated by veterinary staff and professionals at the Oiled Wildlife Care Center and an additional elephant seal and sea lion arrived Saturday for care. The animal were hurt at the Refugio State Beach near Santa Barbara, where a broken oil pipe spilled about 105,000 gallons of oil into the ocean.
The condition of the animals is guarded as the team continues to how the oil has affected their health.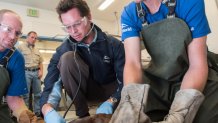 The first sea lion brought to SeaWorld as a result of the spill died Saturday.
Earlier this week, a team from the Oiled Wildlife Care Network set up at SeaWorld San Diego and washed and treated oil-soaked birds.
Several members of the team have traveled to the site of the spill to help with rescue efforts.