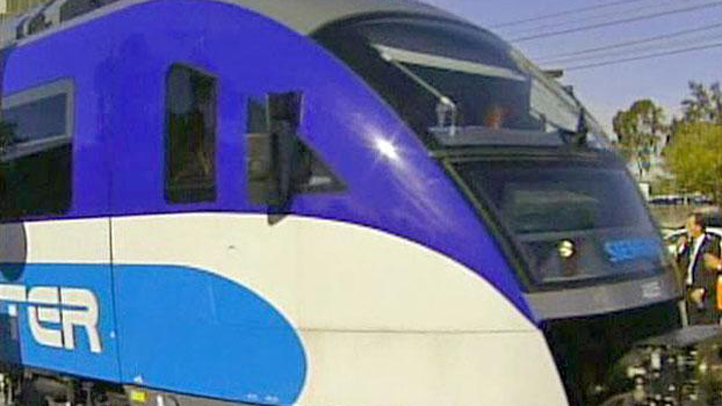 The SPRINTER light rail train service in San Diego's North County has been temporarily suspended due to brake problems, the North County Transit District (NCTD) announced Friday.
Starting at midnight on Mar. 9, the SPRINTER will stop running due to maintenance issues affecting one of the 24 braking systems on the light rail train.
NCTD officials say repairs will take an undetermined amount of time to complete, and SPRINTER service will likely be suspended for two to four months.
In place of the train, the NCTD offered a special express bus service operating every half an hour between Oceanside and Escondido on Saturday and Sunday. The bus stops at Vista Transit Center, Palomar College and Cal State San Marcos, too.
Moving forward, NCTD is finalizing a bus replacement service that will begin Monday. To get the latest service information, visit this website.
NCTD officials say safety is their top priority, so pulling SPRINTER service was necessary at this point. Officials say an "exhaustive investigation to identify the root causes of the issue" with the train is underway.
On Sunday the NCTD released the bus schedule replacing the suspended SPRINTER service, effective Monday, Mar. 11.
The express buses are named "618 SPRINTER Express" and "620 SPRINTER Express," and will operate between Oceanside and Escondido, seven days a week.
The eastbound and westbound 618 SPRINTER bus service begins at 4:35 a.m. Monday through Friday, operating between the Oceanside Transit Center and Vista Transit Center.
The eastbound and westbound 620 SPRINTER bus service begins at 4:10 a.m. and 4:15 a.m., respectively, operating between the Oceanside Transit Center and Escondido Transit Center.
Weekend service differs slightly.

Click HERE for the full SPRINTER Express bus schedule
NCTD officials say a "Blue Crew" staff clad in blue shirts will be at all SPRINTER stations to help passengers make their way to alternative bus routes and answer any questions.
The alternative express routes will be run using a combination of BREEZE buses and charter buses NCTD has contracted.

NCTD officials say the SPRINTER train service suspension will allow NCTD and their contractors, Veolia and Bombardier, to repair the light rail braking system.

Again, it is unknown exactly how long the train will be out of commission.
On Monday, SPRINTER passengers boarded the replacement express buses in lieu of the train.
One SPRINTER passenger who was headed to Vista told NBC 7 the express bus replacement service would actually get him to his destination more quickly than normal SPRINTER train service usually does. He felt the bus service was a good thing.

Another passenger, student Dan Vogt, was surprised and disappointed by the suspended SPRINTER service.

"I showed up to take the SPRINTER and it's not there. I'm pretty disappointed," said Vogt. "I kind of built my schedule going to school back and forth, not driving. This kind of puts a damper on that. I was expecting to use the train and riding the bus is just going to take more time."

Vogt said the two to four months it may take to get SPRINTER service back on track would definitely impact his commuting plans, which typically help him save money.

He said he'd try out the bus service for a day or two, but if it takes too long to get to school, he'll likely end up having to driving his car every day.

"That's going to be another $300 or $400 out of my pocket every month," Vogt lamented.

Meanwhile, local Thomas Henderson, who said he enjoys taking public transportation, thinks the NCTD should keep a combination of both the SPRINTER train service and express bus service.

"They should keep the 620 Express along with the SPRINTER train operating from now on," Henderson told NBC 7.