A young man has been arrested in the killing of a victim in Ocean Beach last summer – an attack that seemed unprovoked and rattled the community.
Noah Jackson, 19, was taken into custody Tuesday in Huntington Beach, California, for the stabbing death of Walter "Ras" Riley, 65.
On June 22, 2017, just before 12:30 a.m., San Diego Police Department (SDPD) officers were called to Bacon Street near Newport Avenue to investigate reports of a man attacking another man.
When officers arrived, they found Riley lying on a sidewalk, suffering from stab wounds to his upper body. Riley was rushed to UC San Diego Medical Center but did not survive his injuries.
The stabbing suspect was nowhere to be found. Witnesses said they had seen a man running away from the area that night.
The man suspected in Riley's killing was captured on surveillance video by a camera mounted at a local business off Newport Avenue just moments before the attack.
Investigators released the video in hopes of finding the killer and, three months later, released still photos of the suspect taken from the footage.
Police said the attack on Riley appeared to be unprovoked. The suspect and victim had some sort of conversation before the deadly stabbing.
The crime shocked the tight-knight community of OB, especially locals who often saw Riley around the businesses in the area. He was described as a "sweet" man by a woman who knew him.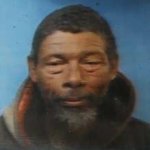 Ultimately, SDPD investigators identified Jackson as the suspect thanks to a tip submitted via Crime Stoppers, Lt. Todd Griffin confirmed.
This week, a warrant was issued for Jackson's arrest. He was taken into custody at a residential facility in Huntington Beach with help from the U.S. Marshals Service, the Huntington Beach Police Department and the SDPD.
Jackson was returned to San Diego and booked into jail just before 11 p.m. Tuesday on one count of first-degree murder. He is scheduled to appear in court Thursday. Booking records indicate the suspect was 18 years old at the time of Riley's attack.
Griffin said Jackson has no criminal history.
The investigation is ongoing. Anyone with information on this case can reach out to the SDPD Homicide Unit at (619) 531-2293 or Crime Stoppers at (888) 580-8477.