U.S. Olympic BMX rider Nic Long has said the 2016 Rio Olympics are all about redemption.
The Lakeside native and his teammates who've trained at the Olympic Training Center in Chula Vista will begin competition Wednesday.
He's just one of the athletes with ties to San Diego who are competing in the 2016 Rio Olympics.
The U.S. was kept off of the podium at the 2012 London Games. Long isn't going to let that happen in Rio.
Long has two Pan American Games medals under his belt and he won the 2016 UCI BMX World Championships. But he's not focused on his top UCI ranking heading into the Games.
"I don't know much about where I'm ranked, nor care that much. I'd rather be an underdog and just keep my head down and ride like I've trained. I've come prepared and I'm ready to raise some hell," Long told NBCOlympics.com.
His goals are nothing short of a spot on the podium.
"I'm going there with the intention of walking out with a medal. I don't plan on coming short this time. So, I'll just do everything in my power to get it done," he said.
[390351071,C]]
Long will compete alongside U.S. teammates Connor Fields and Corben Sharrah as seeding runs kick off. University of San Diego student Alise Post and teammate Brooke Crain.
See how the team performed in seeding races here.
[Rio2016 - Cycling BMX]Meet Team USA: BMX
The US men's volleyball team and local David Lee advanced to the seminals with a win over Poland Wednesday. After a rocky start, the team is playing the very brand of volleyball the Americans knew they had in them to make a special run at the Olympics. It just took a few days longer than expected to get going and find a winning groove. Lee, a native of Alpine, California, is captain to a team made up of eight first-time Olympians.
After losses to Canada and Italy to begin the tournament, the U.S. stunned host Brazil in four sets then topped France in another four-setter Saturday.
Olympian Brittney Reese competed in the long jump finals Wednesday and took home her 8th medal, a silver for the jump.
"Words cannot describe how I am feeling right now as I have collected my 8th medal ... Thank you for your support !!!" the athlete tweeted.
Reese will be defending her gold medal in the finals after qualifying with a 6.78m jump Tuesday.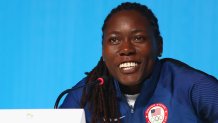 Other track and field Olympians who trained at the Olympic Training Center in Chula Vista will compete Wednesday. Javelin athletes Sean Furey, Sam Crouser and Cyrus Hostetler did not qualify for the final.
San Diego sailor Briana Provancha and her teammate Annie Haeger waited for the winds... and waited... and waited. Hours later, Olympic officials postponed her medal race until Thursday, August. 18.