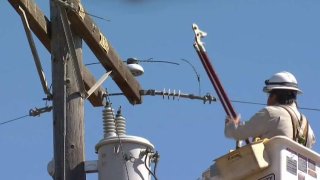 Hundreds of Mission Valley residents have their power restored following an outage that lasted early to late Tuesday morning.
San Diego Gas & Electric reported more than 850 customers in the communities of Mission Valley, Kearny Mesa and Tierrasanta experienced a power outage Tuesday starting at 2:30 a.m. That number was down to 290 by 5:30 a.m. and remained that way for hours while crews worked to assess the issue.
By noon, however, the power was restored to all impacted customers. No information was available regarding the cause of the outage. SD&G was assessing the outage to determine the cause.