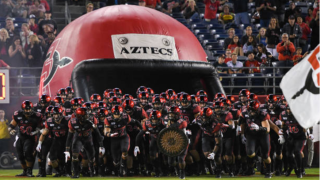 The Mountain West will play football in 2020 after all.
Following a meeting with the Board of Directors, the conference announced that it will start its season October 24th. Teams will play eight games, with the schedule yet to be released. The conference will hold its championship game on December 19th.
"Our guys have been working hard and it will be great to get back out on the field. We can't wait to compete," Aztecs head coach Brady Hoke said in a San Diego State news release. "I don't have any doubt that the priority has always been the health and well-being of our student athletes with the safety protocols we have here at San Diego State. I know the conference and all the (MW) institutions have been following the advice of the medical and athletic training staffs, and we're going to go about this as safely as we can."
The Aztecs will play their fall home games at Dignity Health Sports Park in Carson.
SDSU is expected to be a contender for the Mountain West title and with that comes the potential for a sizeable payday. The highest-ranked team from the "non-power" conferences (SEC, Big 10, Big 12, Pac 12, ACC) gets an automatic spot in one of the New Year's Six bowl games, which means that conference gets a check for just shy of $6.5 million.
One major problem, and this is something the Mountain West will consider as it contemplates the season's length, is the College Football Playoff committee still hasn't decided if there's going to be a minimum number of games necessary to play in major bowl.
Meanwhile the NCAA Division I Football Oversight Committee has recommended eliminating win requirements for bowl games this year, meaning teams won't have to log a certain number of victories (typically six) in order to be bowl eligible. The Division I Council will vote on the matter in October.
For now, tonight's news lends clarity to the biggest question facing SDSU's athletic department. However the conference's announcement didn't include details on a testing plan.
"While we still have work to do with campus and local county colleagues on a full return to play, we have made significant strides in returning our players to practice in a safe and healthy manner," San Diego State Athletic Director John David Wicker said. "We will continue to learn from those that have already begun competing this fall to ensure our health and safety protocols are at the levels we need to enjoy a successful 2020 football season."
The news comes on the same day that the Pac-12 announced their scheduled return on November 6th, for a seven-game season.