From some of the Olympics' biggest names to newcomers that you won't want to miss, San Diego County will be strongly represented at the 2022 Beijing Winter Olympics.
Here are the Olympic athletes with ties to our region you will want to keep an eye on at the Winter Games from Feb. 4-20, 2022.
Elana Meyers Taylor: Bobsledding
One of bobsledding's biggest names was born in a city that doesn't get much snow -- Oceanside, California. Elana Meyers Taylor then moved to Douglasville, Georgia, which isn't much snowier.
So how did this SoCal native get her aspirations to become an Olympic bobsledder? Well, it came from a failed dream to be an Olympic basketball player. When that didn't pan out, she made her Olympic debut in bobsledding in 2010.
Since, Meyers Taylor has been to the winter games three times and has two Olympic silver medals and one bronze. She has also become an advocate for women and racial equality in sports.
In June 2020, she penned a first-person essay on TeamUSA.org detailing instances of racism she experienced in the sport, prompting USA Bobsled & Skeleton to launch an investigation.
One of her proudest achievements, though, is the birth of her son Nico. Husband Nic Taylor and Meyers Taylor welcomed Nico just before the pandemic.
"He has Down syndrome and profound hearing loss and is aided by cochlear implants -- he's the strongest person I know," Meyers Taylor said. "He is my main motivation and the reason why I'm still bobsledding."
Meyers Taylor is vying to compete not only in the two-woman discipline, but in the newly added women's monobob. 
Shaun White: Snowboarding
It's very likely the 2022 Winter Olympics will be the last with Carlsbad native Shaun White, the halfpipe snowboarder says.
The three-time Olympic gold medalist will be 35 years old at his fifth Olympic Games, which is almost double the age of some of the riders he'll be competing against this time around.
"I'm proud that at my age, I'm still doing this sport," White said. "I'm honored and the most proud of being able to stay on top of a sport that's ever-changing. And for this long, to show up and do some heavy tricks with the younger riders, that's very inspiring to me."
His journey to get to the 2022 Winter Games was filled with potential roadblocks -- an injured ankle, a bout with COVID-19 and a late, emergency trip to Switzerland for a contest he needed to sew up his spot on the U.S. team.
But White won't let it stop him from going for gold one more time. If he achieves it, which to some observers seems like a long-shot, White will be the first athlete in any sport at the Winter Games to win four gold medal in the same individual event.
Tessa Maud: Snowboarding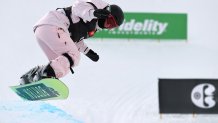 One of Team USA's youngest snowboarders had dreams to follow in the footsteps of idols like Choe Kim and Shaun White. Now, the Carlsbad teen will be boarding alongside them.
First-time Olympian Tessa Maud will be just one of two 18-year-old's competing at the games this year.
"Competing at the Olympics has been a dream of mine since I was a little girl and I cannot believe that it has become my reality," she wrote. "lm SO excited to be able represent my country in Beijing and do the O Show w some of my biggest role models and so many of the people that I love! This Olympic year is going to be a really special one (sic)."
The two-time junior silver medallist grew up on Mammoth Mountain, California.
Maud will be competing in halfpipe.
Kaillie Humphries: Bobsledding
While bobsledder Kaillie Humphries is new to Team USA, she is not new to the Olympics.
She's a two-time Olympic champion from Canada but switched to representing the U.S. after making allegations about abuse and harassment within the Canadian bobsledding team.
Humphries -- who now lives in Carlsbad but is from the town where the bobsledding movie "Cool Runnings" was filmed -- gained her citizenship about two months before the 2022 Winter Games, in a ceremony held here in San Diego.
She told NBC Olympics that her life in Carlsbad has shaped who she is today. Humphries decided to move here after she met her husband while getting a tattoo in the area.
"It has always felt like home here. The city (and surrounding little cities) provided such a welcoming environment. The sun, sand and active lifestyle here are perfect," she said.
"I can train in the summer anywhere as long as I have a gym and space to run, so why not pick such a beautiful place to live? It's great for my mind, body and soul. Not many places in the world provide the same beautiful environment. There's nowhere else I want to live."
Since joining Team USA, she's won three world titles: the two-woman titles in 2020 and 2021, and the inaugural women's monobob title in 2021.
Humphries has two career Olympic golds and a bronze. She'll be competing in two-woman and monobob at the 2022 Winter Olympics.
Lindsey Jacobellis: Snowboarding
Joining White as one of the few Olympic Team USA members heading to their fifth Winter Olympics is Lindsey Jacobellis, who lives in Encinitas, California.
The Vermont native will compete in cross, which is an event resembling roller derby or BMX racing on a snowboard. Races are often full of tight turns and close quarters with plenty of crashes in between.
She earned an Olympic silver in 2006, just missing the top spot when she tried a flashy move on the final jump and fell. She got up and finished in time for silver, but became better known as the girl who lost the gold.
She was 20 then and since, she's evolved into a more well-rounded athlete. Jacobellis has racked up five individual world titles and 10 individual X Games wins, yet Olympic gold remains elusive for the 36-year-old.
We'll be watching from San Diego to see if this transplant will bring home her first gold.
Seamus O'Connor: Snowboarding
OK, OK. Technically, Seamus O'Connor isn't a Team USA athlete... but he is worth noting because this Ramona native is still an Olympian.
The snowboarder is one of Team Ireland's biggest names. When he qualified for the 2022 Winter Olympics, he became the first Irish athlete to qualify and compete for three Winter Games.
"To everyone that's had my back and helped get me here - I can't thank you all enough for supporting my passion and helping keep the dream alive, none of this would have been possible without you," O'Connor said in an Instagram post from Austria.
O'Connor grew up in Ramona and started skiing as a toddler with his father during weekend trips to Big Bear. By age 3, he was on a snowboard displaying rare balance and courage to take on high-flying tricks.
His dream of competing in the Winter Olympics came true in 2014 when he competed in Sochi, Russia for Ireland, the home of his paternal grandparents. He was just 16 years old and qualified in two separate events.
Four years later, he qualified again in the halfpipe, his specialty, for the Winter Games in Pyeongchang, South Korea and was selected as the Irish flag bearer for the opening ceremony.
Our hometown spirit can't help but root for this native, even if he is competing against Team USA.