A surfer was rescued from rocks beneath Sunset Cliffs Saturday morning.
San Diego Fire-Rescue (SDFD) received the initial emergency call at 12:13 p.m. and responded to the 1100 block of Sunset Cliffs Boulevard.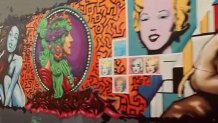 The man recovered in the rescue suffered a lower-leg fracture, according to SDFD Lt. Rick Romero.
Ocean Beach resident Steven Farmer came to Sunset Cliffs to check out the waves and saw the surfer fighting to hold his own against the strong surf.
"I got out of my car because I saw him struggling," Farmer said. "He seemed out of breath. He kept looking out to sea then back at the rocks behind him."
Farmer says the surfer was forced into a cove and onto a rocky area by northward currents. He then handed his surfboard up to Farmer and other spectators and attempted to climb up a rock face to the surface of the cliff.
The surfer was unable to negotiate the rock face and fell backwards onto the rocks below, which is when the leg injury occurred.