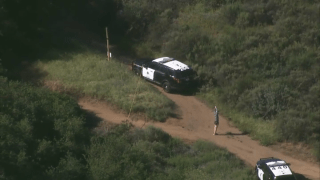 A man died on a hiking trail Friday in Rancho Bernardo, according to San Diego police.
A jogger on the trial found the man on the ground along a trail near Highland Valley Road at around 8:20 p.m., the San Diego Police Department said.
The jogger went back to their car to get a phone, but when they came back the victim didn't have a pulse, SDPD said.
First responders came to the trail and tried to revive the man but couldn't, according to the SDPD.
The county Medical Examiner's Office was called in to take custody of the body for autopsy and identification purposes.