The city of San Diego has completed a $3.2 million emergency construction project to stabilize a La Jolla sea cave that was close to collapsing beneath a popular roadway, according to project engineers. Engineers used thousands of gallons of concrete to stabilize the sea cave.
Coast Boulevard, leading to the La Jolla Cove, was reopened on Wednesday after being closed for two months.
"It was disappointing. You'd come down here hoping to get a glimpse of the ocean in the early morning and you had to keep going down Prospect, to peak out through the buildings," said Larry Speidell.
Speidell has commuted through Coast Boulevard along the La Jolla Cove for the past 25 years. He was happy to see the roads reopened today and get back to his routine.
"It's part of the wonderful things they're doing to repair roads and things around here. It isn't often you find a cave going underneath your road. That's not what you want. So, I think now, it's good for 100 years," said Speidell.
Bluff collapses over the last few months prompted warnings for beachgoers and caused three deaths in August. Cities up and down the coast have been putting time and money into improving the safety of San Diego's coastlines.
In August, city of San Diego officials said the instability of La Jolla's Koch's Crack Sea Cave, also known as 'Cook's Cave', had them "very, very concerned" due to its location right below Coast Boulevard along the northern shore of La Jolla.
Following grout injections below the street, crews filled the cave with about 2,000 cubic yards of concrete slurry to stabilize the road above the cave and surrounding area.
The project was completed Friday, in just over two months and about a month ahead of the city's anticipated completion date. Roads were reopened on Wednesday.
Dave Heine, owner of Brockton Villa, told NBC 7 that he lost about $150,000 in revenue and his employees lost about $25,000 in tips since the project started.
Heine said he questioned how the cave became unstable and believes a former construction project next door to his restaurant had something to do with it.
"Their own engineering report states that that project led to the undermining of the cave. That tells me the city has some responsibility," said Heine.
City staff told NBC 7 that the cave's erosion is natural and people can file a claim with the city if anyone thinks otherwise.
An engineering consulting group first told the city there was a high probability of collapse in the coming years which could cause "damage to the street and utilities that overlie the Cook's Crack Sea Cave and/or injury or death due to a vehicle or pedestrian falling into a sinkhole," TerraCosta Consulting Group said in a report.
"Moreover, any seismic tremor, or even a break of the City's water main that runs over the roof of the sea cave, could cause an imminent and catastrophic collapse," the initial report said.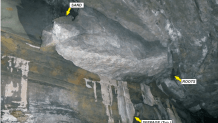 City Staff did not deny the construction project had something to do with the cave's instability and said a separate investigation will be done after claims are filed.
For more information on the sea cave project, click here.