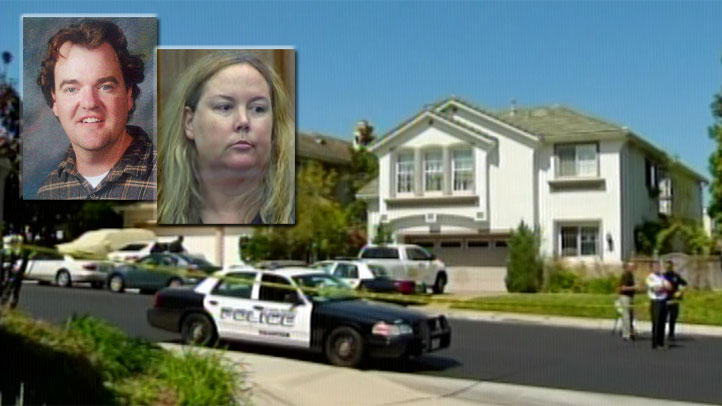 The violent shooting death of a Carlsbad high school teacher was heard by his children in his own home prosecutors alleged Monday.
Jason Harper died from a shotgun wound to his chest in his home on Badger Lane while his 8-year-old and 6-year-old played downstairs according to prosecutors. The children told investigators they heard a thump and heard their father yell.
That was between 8 a.m. and 9 a.m. on August 7 officials said.
Julie Harper told the children their father fell off a chair prosecutors allege.
Then she took the kids to the La Costa Coffee Roasting for coffee and sandwiches, tried to set up a playdate with a neighbor, stopped at a children's activity center and then arranged for her sister to watch the kids during the afternoon.
"In none of this timeline did she call 911 or contact police," said Deputy District Attorney Keith Watanabe.
Around 11 p.m. that night, Carlsbad police were called by Julie Harper's defense attorney to perform a welfare check on the home.
That's when they discovered the body of Jason Harper and launched a search for the other members of the family.
Late Wednesday, more than 24 hours after the shooting, investigators arrested Julie Harper at her father's home in Scripps Ranch.
Details of what happened last week were revealed Monday when the 39-year-old former real estate agent was formally charged with her husband's murder.
While prosecutors have put together a timeline of the events, they revealed Monday that they don't have the murder weapon, the victim's wallet or the victim's cell phone.
"The actual gun that's tied to the shooting still has not been found," Watanabe said.
On Tuesday afternoon, while Julie Harper was visiting several area businesses with her children, Watanabe said a text message was sent from Jason's cell phone to the victim's brother that read "I'm out running errands, tell Mom I'll see her Friday."
That message was sent around 11:46 a.m. hours after Jason was shot.
Jason's brother Brian Harper, along with parents Homer and Lina Harper, attended Monday's pretrial hearing. Watch video of arraignment
"We can't believe he is gone," Lina Harper read from a prepared statement. "We are heartbroken that his children no longer have their dad."
Lina shared the last photograph she has of Jason with reporters outside the courtroom. The image was captured several weeks ago on a day when Jason and his children were visiting and – Lina noted - Jason cared for his 18 month old child himself the entire day.
In court records, obtained by our media partner North County Times, Julie Harper filed for divorce just days before Jason's death.
In the divorce documents, filed just August 2, allegations were made that Jason Harper was occasionally violent toward his wife.
Defense attorney Paul Pfingst described at least one previous interaction with police in November 2011 when Julie Harper called the Carlsbad police for assistance and the police responded to the home.
Jason Harper was directed by the police to leave the home for a time and then come back later according Pfingst.
He also said that when he spoke with the couple's children they described a pattern of behavior that included yelling, insults and other threats as almost a daily event.
"People outside the marriage may see one thing, people inside the marriage may see something entirely different," Pfingst said. "This is one of those marriages."
Prosecutors allege Julie Harper had two handguns registered in her name but neither was found inside the home. Pfingst countered that the guns were not in the home because children lived there.
Watanabe said detectives also found a number of medications prescribed to the defendant including Oxycontin, Oxycodone and Hydrocodone which is generic for Vicodin.
Pfingst said the medications were needed for his client's arthritis.
Harper pleaded not guilty to charges Monday. She's being held on $2 million bail. If convicted, she would face 50 years to life based on the criminal count.
Follow NBC 7 for the latest news, weather, and events: iPad App | iPhone App | Android App | Facebook | Twitter | Google+ | Instagram | RSS | Text Alerts | Email Alerts