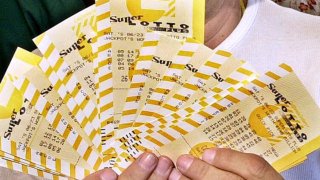 A ticket that hit the jackpot in Saturday's SuperLotto Plus drawing was purchased in San Diego, the California Lottery announced.
The ticket is worth a whopping $38 million and was sold at a 7-Eleven in San Diego located at 430 Spruce St.
The winning numbers in Saturday night's drawing were: 3, 15, 21, 35, 46 and the Mega number was 18. It was not immediately known if the lucky winner had claimed their grand prize yet.
For a detailed look at the draw results, visit CA Lottery's page here.