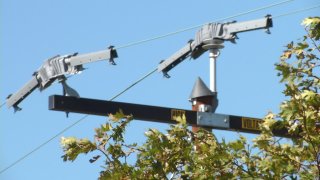 The California Independent System Operator (Cal ISO) directed San Diego Gas and Electric (SDG&E) to initiate rotating, hour-long outages Friday as a result of excessive heat driving up electricity use.
Cal ISO declared a Stage 3 Power emergency across the state at around 6:30 p.m., shortly after declaring a Stage 2 Emergency.
"CASIO has declared a 'Stage 3' power emergency because contingency reserves have fallen or are anticipated to fall below requirements and cannot be restored without service interruptions," SDG&E said in a release.
At one point more than 41,000 customers were without power, according to the outage map on SDG&E's website. Just after 8 p.m., about an hour and 20 minutes after the shut-offs were initiated, SDG&E reported all service had been restored.
The Cal ISO terminated the statewide Stage 3 Emergency about an hour later.
SDG&E said roughly 58,700 customers were affected by the power outages. The last time the Cal ISO issued a Stage 3 Emergency was May 8, 2001, according to a spokesperson.
Cal ISO issued its first Flex Alert of the summer on Friday urging residents to conserve energy as a heat wave sweeps across much of the state.
Flex Alerts are issued when the electricity grid is overtaxed due to high temperatures, Cal ISO said. It is a voluntary call on residents to conserve electricity when demand is at its peak.
The Cal ISO offered a series of tips to conserve power, including:
Turning off unnecessary lights
Using major appliances before 3 p.m. and after 10 p.m.
Setting air conditioner thermostats to 78 degrees or higher
Using fans
Keeping drapes drawn
More energy-saving tips can be found on the FlexAlert website.