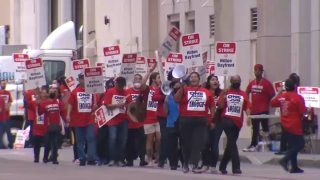 Unite Here Local 30 labor union reached a tentative agreement Wednesday night following a strike outside the Hilton San Diego Bayfront hotel.
"This tentative agreement addresses the many issues our hotel workers are experiencing in this tough economic environment,"  said Brigette Browning, president of UNITE HERE Local 30. "The economy cannot truly recover from the pandemic by leaving behind residents who work in the hospitality industry, and now these hardworking San Diegans have a fighting chance to succeed." 
Although a tentative deal was reached, the agreement still must be ratified by the membership of Unite Here Local 30 before it becomes final. 
The union called for a $6/hour raise for its workers, phased in over two years. A negotiator for the Hilton San Diego Bayfront offered a $2.50/hour raise over 18 months. The union said representatives tried to negotiate down to $4/hour early Wednesday. No information was released on what raises they agreed with.
A few dozen union members in red t-shirts could be seen picketing outside the hotel Wednesday, which was wrapped in an FX promotion for San Diego Comic-Con. The popular convention, which brings in millions to the local economy, is set to begin on Thursday.
NBC 7 reached out multiple times to representatives for the Hilton San Diego Bayfront for comment on the strike and has not heard back.