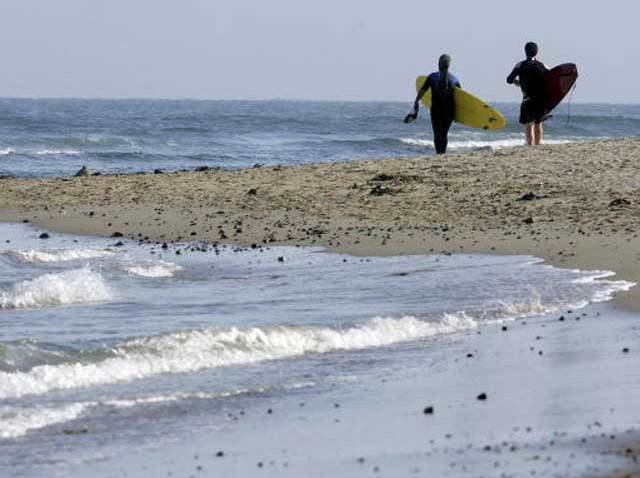 South-facing beaches along San Diego's coastline could see big, powerful waves Thursday and a high surf advisory is in effect for the next few days.

The National Weather Service issued a statement warning people that San Diego County beaches will have a large swell lasting through Friday night.
Surf height is expected to reach as high as 7 to 9 ft., with Thursday having the most powerful waves. Strong rip currents are expected to last until Sunday.
South-facing beaches in San Diego could see 8 to 10 ft waves according to forecaster Whitney Southwick. Most areas could see 4 to possibly 8 ft.
The waves caused flooding in Newport Beach Wednesday and may have been a factor in a swimmer's disappearance at Sunset Beach near Los Angeles.
San Diego lifeguard Alan Kraklow advises that beachgoers check in with lifeguards and make sure they're aware problem areas of the beach.
"Don't go beyond your capabilities," Kraklow said. "If you're not sure, stay waist deep."
If you find yourself caught in a rip current, keep treading and the lifeguards will come and get you Kraklow said.
NOAA is crediting the swell from a powerful storm that originated near New Zealand.

San Diego Lifeguards are gearing up for the swell with a busy Labor Day weekend. The combination of the holiday and promised waves mean lifeguards will be on high alert, Lifeguard Lt. Andy Lerum said Wednesday.
"If it were hitting a month later we would be scrambling," Lerum said. "We should be well prepared. The combination of sunny skies and big surf means it will be a busy weekend."
Keep up to date on breaking news: Follow us on Twitter @nbcsandiego, fan us on Facebook, sign up for our breaking news e-mail alerts or text SDBREAKING to 622339 to receive text messages for local breaking news. (Standard rates apply)