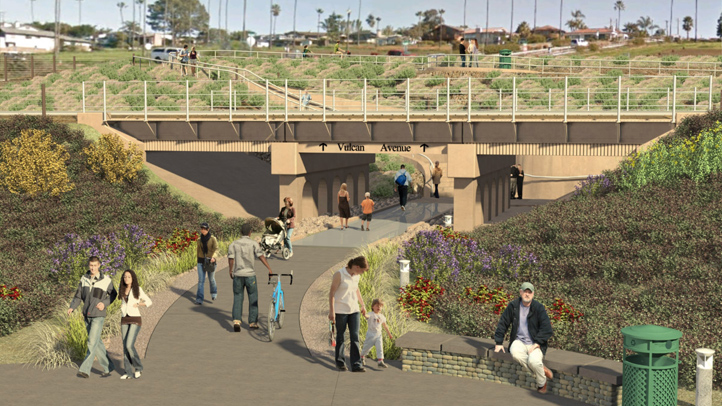 Construction is set to start Monday on a new pedestrian crossing to reach Swami's Beach.
It's common to see beachgoers and surfers crossing the railroad tracks between Vulcan Avenue and Santa Fe Drive along the South Coast Highway. By making the illegal dash, surfers can save a few miles out of a trip to and from the beach.
Now, a rail bridge, a paved walkway, a new crosswalk and a traffic signal will be added to Highway 101 at Santa Fe Drive.
Dozens of trains travel on this section of railroad every weekday according to San Diego Association of Governments (SANDAG).
Supporters of the new walkway believe it will not only lower the risk of accidents but should lower noise concerns for nearby residents as trains will be able to pass without blaring their horns.
Construction for the $5.9 million project begins Monday. Work is expected to take place between 8 a.m. and 4:30 p.m.
It's a cooperative project with the City of Encinitas, SANDAG and North County Transit District.
This is one of four safety crossings planned. The other sites will include El Portal Street and Hillcrest Drive in Leucadia and Montgomery Avenue in Cardiff.
The total cost of the four crossings is estimated at $25.7 million, of which $6.7 million in state and local funds have been identified according to SANDAG.
Richard Phillips, assistant city manager in Encinitas told our media partner the North County Times the city expects to pay $1.2 million for the Santa Fe crossing. Each additional crossing would require more city funds Phillips told the paper.
The project is expected to be complete in late 2012.
Let us know what you think. Comment below, send us your thoughts via Twitter @nbcsandiego or add your comment to our Facebook page.