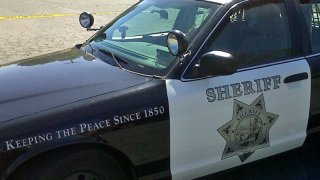 A woman who was arrested near Lakeside Middle School on Tuesday morning was wanted in connection to a stabbing not far from the school, according to deputies.
San Diego sheriff's deputies were sent out to an apartment building in the 12000 block of Woodside Avenue after 911 operators got a call at 9:42 a.m. that a man had been stabbed by his daughter Hannah Wogatzke. The victim was stabbed in the stomach and was also cut on his arm.
Wogatzke, 26, fled the home right after the stabbing, the victim told deputies, who began to search the area, calling out both a K-9 unit as well as the ASTREA helicopter. Officials said they eventually located her after being flagged down by a witness, who told them she was behind the apartment building's dumpster. Wogatzke was then taken into custody without incident, according to the sheriff's department.
The school was briefly under lockdown while deputies searched for Wogatzke near the school, which is on the intersection of Woodside and Riverview avenues.
The victim was taken to a nearby hospital. He is expected to survive his injuries.
Wogatzke is being held at the Las Colinas Detention facility. She is not currently eligible for bail and is charged with a violation of parole, assault with a deadly weapon, and possession of tear gas and a stun gun. Deputies said they located pepper spray and a Taser in a search of the home where the stabbing took place.