A National City teen who was thrust into the spotlight last year when his parents were detained by U.S. Border Patrol agents, leaving him and his siblings alone, has been accepted to one of the country's top universities.
Luis Duarte was 17 years old when his parents, Francisco Duarte and Rosenda Perez, were detained in front of him, his older brother and his twin sisters in May 2017.
In an interview last year, the siblings told NBC 7 that their father was handcuffed and put into an unmarked SUV when he walked to a convenience store next door to pick up a newspaper. When Luis Duarte's mother walked out of the home to see what was going on, she was also detained.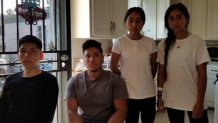 After being in Immigration and Customs Enforcement (ICE) custody for 23 days, Perez was released to be reunited with her children but not before word of the family's situation began spreading through a GoFundMe page set up to help the children with costs while their parents were in custody.
The Duartes' arrest was the inspiration behind Luis Duarte's admission essay to Stanford University.
"The first thing I did [when I got accepted] was call my mom," Duarte said. "I feel very fortunate to now have my parents with me."
Her mother said she is proud but not surprised that her son got into Stanford. She said she knew her children would not let themselves be overcome by their hardships.
"What we went through, it's not an excuse [to give up], to the contrary, it's about getting up and shake it off and try harder," Rosenda Perez told NBC 7's sister station, Telemundo 20.
Luis Duarte said his family's ice cream business is what taught him the value of hard work.
He began selling ice cream in his free time when he was 16 years old and while he is now swapping out the ice cream cart for book bags, he said he will continue to take his experiences with him -- both the good and the bad.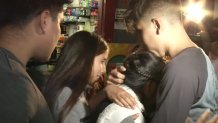 Luis Duarte's older brother, named Francisco Duarte after his father, also described his parents as hard workers who were targeted for being in the country illegally.
According to allegations brought up in court, the couple rented ice cream carts to undocumented immigrants and profited from the sales. They also allowed the individuals to stay at their home.
"My dad has been an ice cream man since he got to this country. He sells ice cream and he rents carts," the younger Francisco Duarte said at a press conference in March in support of another family with a detained parent.
"They put our family through all of that. On top of taking my parents, they branded them as criminals."
Immigration proceedings for the Duarte parents are ongoing. They continue to check in with ICE but are no longer required to wear ankle monitors.