Here's some cool news: a new gourmet ice cream shop will open its doors in Pacific Beach this Friday and is giving away free ice cream sandwiches to celebrate their beachside digs.
CREAM – a dessert franchise founded in Berkeley, Calif., and known for its indulgent, unique ice cream sandwiches – will open a shop at 1038 Garnet Ave. in PB (see photo of storefront below).
The sweet treat freebie will be available there from 3 p.m. to midnight. The shop expects to draw a large crowd and give away more than 3,000 cool confections.
This is the second CREAM location that has opened in San Diego this year.
Back in March, CREAM set up shop in the College Avenue area near San Diego State University, also marking the occasion with free ice cream sandwiches for patrons.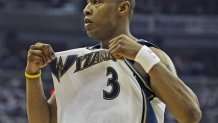 CREAM – which is an acronym for "Cookies Rule Everything Around Me" – was founded in 2010 and currently has 14 locations operating throughout California and Nevada. The company plans to continue expanding across the U.S. over the next few years, specializing in its signature cookie ice cream sandwich creations.
The menu at CREAM includes fresh baked cookies in 20 flavors such as red velvet, double chocolate chip and lemon heaven. Ice cream flavors – also 20 on the list – include banana walnut fudge, pistachio delight and royal caramel swirl, just to name a few. The menu also includes lots of sweet toppings, plus "The CREAM Taco," a taco shell-shaped cone stuffed with three flavors of ice cream and two toppings of your choice.