Chula Vista Police officers trying to solve a recent theft of more than $20,000 from a gas station have released surveillance images of two potential suspects.
The men walked into the Optimart at Third and Orange avenues just after 2:30 p.m. on Friday, August 15.
Investigators say one of the men distracted the clerk while the second man walked into the gas station through a back door into a back office. There, officers say the man stole the bank deposit worth approximately $21,000.
The first suspect is described as 5-feet, 7-inches tall, 160 pounds with a goatee and short hair.
The second suspect is described as 6-foot tall, 250 pounds with short dark and gray hair and a salt and pepper goatee.
Both men wore Bluetooth earpieces in their right ears, police said.
San Diego Police are looking into the possibility that the second suspect may be responsible for a similar theft in Mira Mesa that occurred on July 1 at 1:38 p.m.
In that incident, someone stole $11,200 in cash from an unlocked safe at a Wines & Spirits store.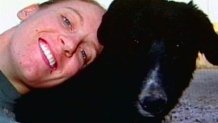 Anyone with information on either case may contact Det. Scott Schneider, Chula Vista Police at (619) 407- 3582 or call the CVPD "Help Us Solve-A-Crime" tipline at 619-422-TIPS (8477).