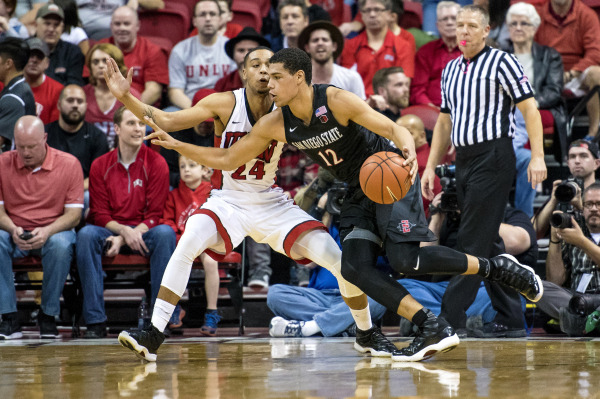 San Diego State's basketball team is following the same pattern as its football team: have a few struggles early in the non-conference schedule then put a stranglehold on the Mountain West.

SDSU went undefeated in MWC play on the football field and is halfway to doing the same thing on the basketball court.

The Aztecs beat UNLV 67-52 on Saturday night in Las Vegas to improve to 9-0 in conference play. San Diego State had four players score in double-digits, led by a game-high 14 points from sophomore guard Trey Kell.

The game was tight in the first half. The Aztecs led by a single point when senior forward Skylar Spencer tipped in a miss at the buzzer to put SDSU up 30-27. I don't know if that did anything to jump-start them for the second half but after the break Steve Fisher's guys were dominant, especially on defense (as is usually the case).

In the second half the Aztecs held UNLV to just 36% shooting and really locked up the 3-point line. The Rebels went 1-11 from the Land O' Plenty.

"We created a little separation," said Coach Fisher. "We got that eight-point lead and didn't let them jump it back to two. I think that was important."

The Aztecs open up a 2.5 game lead on New Mexico in the Mountain West. They'll host Colorado State on Tuesday before getting their first shot at the Lobos on Saturday at Viejas Arena.