A blown tire set a tractor trailer on fire late Tuesday and led to significant delays along two San Diego highways during the evening commute.
Several lanes of northbound Interstate 15 were closed when a delivery truck caught fire at 1:30 p.m. beneath the Miramar Way exit sign.
The driver managed to escape injury but the fire destroyed the truck and sent thick smoke over I-15 and State Route 163.
Investigators could not confirm the truck driver was working for Amazon but an insurance investigator told NBC 7 he was hired by the company.
There were no packages in the truck at the time of the fire, officials with San Diego Fire-Rescue said.
Crews spent the afternoon clearing the site of the fire, as traffic backed up to a stand-still. After an hours-long closure, the freeway was opened to traffic after 6 p.m.
The truck was nearly 17 feet tall which means CHP officers had to apply for a permit to remove the damaged trailer. The process was expected to take hours.
Truck Catches Fire, Closing Multiple Lanes on I-15 N, SR-163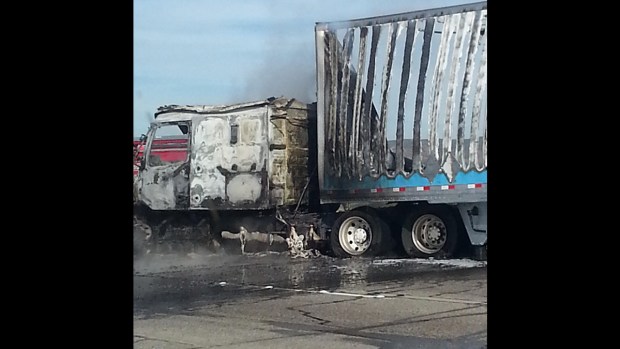 Here's a map of where the big rig caught fire: