"Shots fired!" San Diego Police Officers sound frantic in a radio call to dispatch seconds after they dodged multiple bullets Wednesday inside a Bankers Hill condo complex.
What began as a domestic disturbance call, turned into a five-hour long standoff between SDPD SWAT members and a man armed with a long-range rifle. The threat to public safety prompted police to close several city blocks, halt incoming air traffic to San Diego International Airport and tell businesses and residents nearby to shelter in place.
"Shots fired. Suspect fired at the K-9. We returned fire," one of the officers tells dispatch as they call requesting backup. "We've got him locked down inside Apartment 610."
The officers on scene warn their colleagues who are responding how to avoid being in the line of fire, telling them to arrive without using Kalmia Street because the condo's windows face that direction.
"He's shooting a high-powered rifle out the window right now ," an officer says.
The initial call for help was made at approximately 9:41 a.m.
"We are up on the roof with the apartment in our view," the officer said.
Bankers Hill Standoff Suspect Surrenders
The woman living inside Apartment 610 called police early Wednesday. She asked for police to check her condo believing her ex-boyfriend was inside.
Officers found a broken sliding glass door connecting the condo with the building's rooftop. When shots were fired, they took cover.
Titus Colbert, 33, of Las Vegas was inside the unit, armed with a long-range assault rifle and a handgun, police said.
Inside Bankers Hill Condo Near Gunman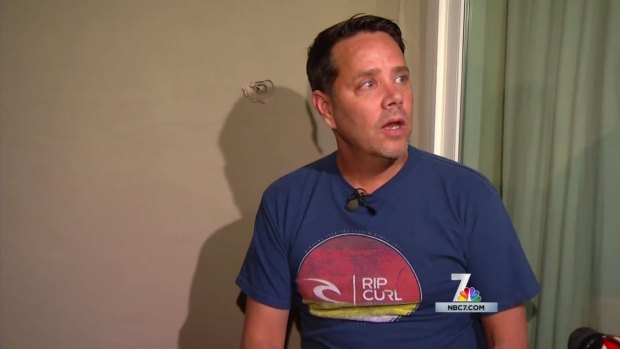 Tom Neu lives right next door to where the shooter was holed up. He was working when he heard the gunshots start.
"It's terrifying to be in my own home and know somebody had assault rifles next door," Neu said as he showed NBC 7 his condo.
There's a bullet hole in one wall. Shattered glass, spent tear gas canisters and SWAT unit gear littered the area where officers took cover.
Neu of course didn't have a Kevlar vest or armored car as he sheltered-in-place for hours while police negotiated with the gunman.
"I was thinking I've got to get somewhere, the safest place I can be," he recalled. So I got in my bathtub."
While Neu took cover inside his condo, officers were busy negotiating with the gunman. They made enough that they told the FAA was no longer a threat to incoming aircraft.
Eventually, around 2:40 p.m., Colbert surrendered to officers. He was walked to an awaiting patrol car, uninjured and in handcuffs.
The Airport Authority confirmed Thursday that 140 flights were impacted by the standoff.
Flights Resume After Bankers Hill Standoff
The suspect's criminal history includes arrests in San Diego, San Bernardino, and Arizona. Among his previous convictions are transporting controlled substance, dissuading a witness and aggravated assault.
Court records reviewed by NBC 7 Investigates show Colbert was also caught with a weapon while he was in prison for a prior offense.
A documented gang member, Colbert is the brother of a convicted killer on Death Row at San Quentin in Northern California.
Now he's in custody facing multiple charges including attempted murder of a police officer.
The investigation into the incident is ongoing. It's unknown how many rounds were fired, officials.