A California Highway Patrol officer fired and injured a suspect in a shooting on a residential street in Spring Valley Tuesday.
The CHP officer attempted to stop a 2007 Chevy driving without a front license plate when the driver sped off, according to officials.
Once the officer began pursuing the suspect, 28-year-old Arturo Serrato, when the car slowed near a home at 936 Sacramento Ave.
The driver then jumped out of the car and broke a window in order to get into a residence, which is when the officer saw the suspect allegedly holding black semi-automatic handgun.
The officer then shot Serrato in the shoulder.
"The officer felt for his safety and the safety of the people in the residence, he drew and fired his service weapon," said Glenn Giannantonio of the San Diego Sheriff's Department.
Serrato was ordered out of the residence by a SWAT team and arrested on site. He was allegedly under the influence of methamphetamine, according to Giannantonio.
Four other people, two in the house and two found in the alleyway, were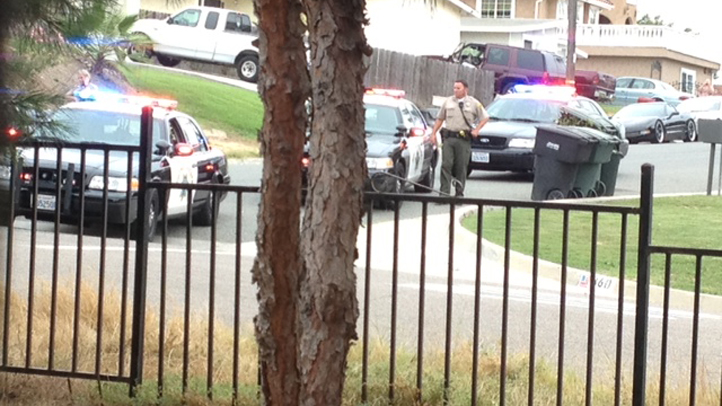 also detained. Serrato had a relationship with the owners of the house, according to officials. The suspect is a resident of Chula Vista and was on parole for possession of controlled substance while armed and possession of stolen property.
Witnesses said they saw a gray car being chased, then heard between six to eight shots fired.
Jamacha Road was closed between Presioca Street and Grand Avenue. Piedmont Road was also closed from Kempton Street to Grand Avenue.
Several schools including La Presa Middle School, Kempton Elementary School, La Presa Elementary School and Head Start were under lockdown, which was lifted shortly after 2 p.m.
Watch: Parents react to police presence
Around 1 p.m., parents began lining up at a nearby school to pick up students because classes were supposed to let out. Many parents said they were shaken by all the police activity.
CHP said no officers were injured or killed during the incident.