A San Diego police officer described the chaos and emotions he felt while trapped with his injured K-9 partner in a police raid that resulted in the death of a fellow officer.
Inside a downtown courtroom, jurors have been hearing evidence for several weeks in the trial of Alex Charfauros.
Charfauros is charged with murder in the October 2010 death of SDPD Officer Christopher Wilson.
Wilson, 50, died from a gunshot wound to the head. An investigation revealed the fatal shot was fired by one of two other suspects who had barricaded themselves in a bedroom of the apartment on South Meadowbrook Drive.
On Thursday, jurors listened to the desperate police call made by Officer Mike McLeod who was trapped in a back bedroom with his critically injured K-9 partner.
McLeod had to try several times to interrupt the traffic on the busy police radio channel to report, "My dog has been shot. I'm pinned down."
In graphic testimony McLeod described how his K-9 partner, Monty, had been shot in the face while trying to disarm the suspect. The dog was panting loudly next to him and trying to blow the round out of his nose.
At one point, McLeod thought he was along in the apartment with the armed suspects. Without help, he feared for Monty's life.
He also provided important testimony by stating that if officers knew there was a gun in the room, they would not have sent in a K-9 team.
"They know you're coming in there. They have the tactical advantage," he said. "We always want to have the tactical advantage. In that instance they do. So we wouldn't make it in. We'd call out. We'd contain and call out."
The officer told the court the SDPD would've called in SWAT had they known that Holim Lee and his girlfriend Lucky Xayasene were heavily armed inside the unit. Lee and Xayasene killed themselves before capture.
His testimony was important because prosecutors claim Charfauros lied to police about who was in the apartment and the potential danger awaiting police officers. That lie, they allege, makes him responsible for Wilson's death.
Defense attorneys argue the police botched the raid and should've known there were guns in the home.
Charfaurous never fired a weapon that night and had left the apartment before the shoot-out. His father told NBC 7 he believes his son, who has a history of drug abuse, was "crashed out" on meth when officers pulled him from the apartment.
On Wednesday, Officer Lorenzo Ruiz described the gunfire that killed a San Diego Police officer and told the jury how he literally ran for his life, when the shooting started.
"I remember the door swung open, the bedroom was totally dark, and before I could get my foot down, I heard gunshots going," Ruiz testified.
Officer Ruiz was just a few feet away from Wilson, who was positioned just outside the bedroom door.
Ruiz told the jury how he kicked in a bedroom door, where Lee and his girlfriend were hiding. Seconds later, the suspects opened fire.
Ruiz told jurors, if officers had known the potential danger of the operation, a SWAT team would have taken charge and Wilson might not have been killed.
"We would not have rushed the situation," he testified Wednesday. "There would have been no reason for us to go in there now. We would have started call-outs, or did something else, rather than going inside the apartment."
San Diego Police were providing backup for probation officers on Oct. 27. 2010 as they searched for Lee, a dangerous parole violator.
Officer Wilson, a 17-year-veteran of the San Diego police department, was known by the nickname "Good Cover." He worked for the Southeastern Division.
The Belgian Malinois-mix Monty, pictured right, recovered from his wounds. has recovered. He is now 7 years old and works with Officer McLeod.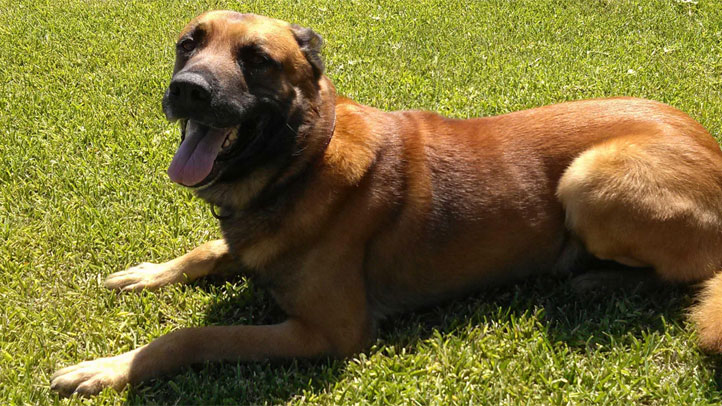 Testimony expected to continue Thursday includes a rookie officer who disobeyed orders by going into the apartment unit to retrieve Wilson.
The prosecution expects to present two more weeks of testimony.
NBC 7 is the only media outlet covering the trial.
Published at 2:32 PM PDT on Aug 1, 2013 | Updated at 7:23 PM PDT on Aug 1, 2013