In a matter of hours, Cal Fire stopped the spread of the fast-moving "Dehesa Fire" Tuesday night and lifted all evacuation orders and road closures in the area.
Crews remained on scene into the next day to increase containment of the approximately 200-acre fire to 21 percent by Wednesday morning. By Thursday morning, the fire was 95 percent contained.
The fire erupted at about 3:30 p.m. near the intersection of Dehesa Road and Sloan Canyon Road and had grown in about an hour to 150 acres. Another hour later, it grew to its current size.
Crews were agressively attacking the fire -- driven by the perfect combination of weather, fuel and slope -- from both the ground and the air, according to Cal Fire Captain Isaac Sanchez.
"We do have a west wind on this incident so it's pushing it towards the east. When you add in the fuel and you add in the terrain that it's burning in right now, it could certainly lead to some pretty rapid spread," Capt. Sanchez said.
Forward Rate of Spread Stopped in 'Dehesa Fire'
The San Diego County Sheriff's Department sent a reverse 911 call to evacuate homes along Sycuan Truck Trail. Cal Fire said evacuations were also in place along Sloan Canyon Road.
Evacuation warnings were issued for portions of Dehesa Road east of Sycuan Casino. The casino was not evacuated, Cal Fire said.
Cal Fire set up a temporary evacuation point for residents at Los Coches Creek Middle School at 9669 Dunbar Lane in El Cajon.
Dehesa Fire Forward Spread Stooped, Evacuations Still in Place: Cal Fire
Sloan Canyon Road was closed at Dehesa Road, eastbound Dehesa Road was closed from the casino to Japatul Road, and Sycuan Truck Trail was closed from Japatul Road, according to the San Diego County Sheriff's Department.
All evacuation orders and road closures were lifted at 8 p.m., less than three hours after crews had stopped the fire's forward rate of spread. The agency said that crews had reached 75 percent containment by 8 p.m. Wednesday.
The fire was burning toward open space between Sycuan Casino and Singing Hills Golf Course, according to Sanchez.
"We do have a significant amount of aircraft at the scene plus ground resources engaged," Sanchez said.
Sanchez said at one point there were six to eight fixed-wing aircraft and helicopters making drops over the flames. Cal Fire said 26 fire engines, 12 hand crews and three water tenders were still on scene as of 6 p.m.
The San Diego County Fire Authority, U.S. Forest Service, other local agencies, and aircrafts from Santa Monica were assisting Cal Fire.
'Dehesa Fire' Forces Home Evacuations Near Sycuan Casino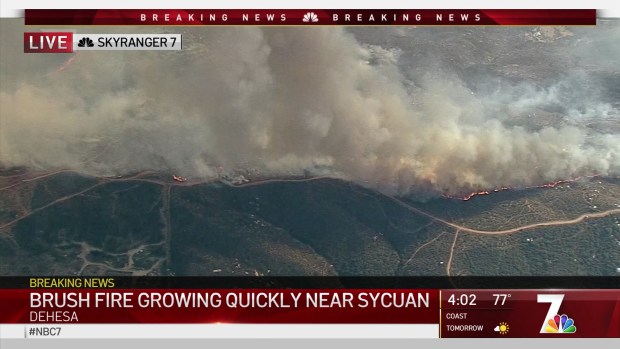 The fire's smoke plume was visible from Santee and several other East County communities.
NBC 7 Meteorologist Dagmar Midcap said the temperature in the Dehesa and Crest communities steadied around 85 degrees from 3 to 5 p.m.
Winds around 16 to 17 mph were also holding in the area, but the winds couldn't be categorized as Santa Ana winds, according to Midcap.
Sanchez said the fire was a graphic reminder that San Diego's fire season is not close to being over.
"Until we can get some rain, don't let your guard down. Be ready to evacuate at a moment's notice," he said.
No other information was available.
Please refresh this page for updates on this story. Details may change as more information becomes available.