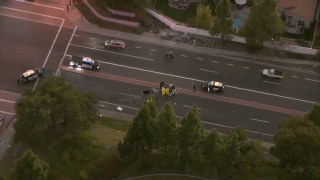 Two people were killed in a single-car crash Friday evening in Oceanside, police said.
The crash was reported at around 5 p.m. along College Boulevard, according to Oceanside Police Department spokesperson Jennifer Atenza.
Sgt. Adam Morales said the driver of a Toyota Scion XB was traveling northbound when it drifted out of the lane and hit a concrete wall and fire hydrant. The car rolled over and the driver was ejected.
The driver and the passenger died at the scene, Sgt. Morales said.
Morales couldn't say if alcohol was a factor in the crash.
OPD's Major Accident Investigation Team is handling the investigation. Anyone with information is asked to call Accident Investigator David Paul at (760) 435-4431.