Two people were killed when their car slammed into a tree early Saturday morning around 1:30 a.m. at Carmel Valley Road and Torrey Del Mar Drive.
The driver overcorrected, causing the car to spin counterclockwise and hit the tree, according to SDPD Traffic Division.
The force of the crash uprooted the large tree, and the victims were pronounced dead at the scene.
The victims were two men in their twenties, police said.
A resident in the area, Carl VonRetteg, said, "It's a very common thing," to see cars drive fast down that road.
"It's 50 miles per hour. You see guys driving 80, 85 miles per hour," VonRetteg said. "It's very dangerous."
A memorial can be seen near the crash site, honoring the two men.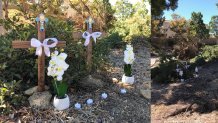 San Diego police are investigating the cause of the crash, and the men have not yet been identified.