Like most people, Tyeshay Davis has a few regrets in life. He said one of his biggest is letting a man named Dion Henderson into his life. Davis said that led to a nearly year-long struggle to clear his name after a series of criminal incidents prosecutors now say he had nothing to do with.
In 2022, Davis was working as a chauffeur, living happily with his wife Amber, a newborn, and another baby on the way. Not long after his best friend moved out, he found a surprise outside his door: his best friend's brother.
"I just happened to walk outside my studio, and when I locked the door, turned the corner to go down the stairs, there was Dion asleep on my stairwell," Davis said.
Davis agreed to let Henderson move in as a roommate, occupying the room Henderson's brother had recently vacated. But five months in, problems arose.
"So we had a lot of issues living with him," Davis said. "Couldn't pay rent on time, lots of missed payments for his rent."
A few months before he asked Henderson to leave, Davis told us his passport disappeared.
"I remember him coming to me and saying, 'Hey, I got to get something out of your car. I left something in your car,'" David said. "So I simply handed him the keys, and I was like, 'Go for it. Go get it. Put my keys back. Make sure you lock it.' That was my biggest mistake."
Davis said he noticed it was missing and confronted Henderson, who denied taking it.
"The amount of times he looked me in my face, I'm talking tears coming down his eyes, begging me to believe him, that he didn't have my passport, helping me look for it, swearing up and down he didn't have it," Davis said.
Criminal incidents pinned on Davis
What prosecutors say happened after the theft of the passport is well-documented in Henderson's arrest warrant and criminal complaint, which detail 13 felony and misdemeanor charges. Prosecutors say each time, Henderson used Davis's passport when police confronted or arrested him.
In September of last year, prosecutors say Henderson stole $500 in cash from a customer's backpack at the Sycuan Casino. When he was confronted and criminally cited by casino police, investigators say Henderson presented the passport as his identity.
The next month, prosecutors say Henderson went to the Cabo Cantina in Pacific Beach and asked to borrow another customer's cell phone. They say he then used the phone's money-transfer app to illegally transfer money to another account. When confronted by the customer, prosecutors say he offered to let that man take a picture of Davis' passport.
Two days later, prosecutors say he went to the Macy's at Plaza Bonita mall and tried to walk away with $799 worth of items before being stopped by security, who called National City Police. He again presented the passport to the arresting officer who made him sign a citation, according to investigators.
It wasn't long after that shoplifting citation, that Davis said he learned his name was being tarnished. He says he was pulled over in his car by police.
"During that traffic stop, the officer went back," Davis said. "He ran my name. When he came back, he had told me about a theft. He asked me, 'So what's going on with this open case?' I said, 'What do you mean? What open case, sir? I cleared my record everything's good.' He said 'No, you have a theft out of Plaza Bonita mall.' I said, 'That can't be right.'"
Fast forward to this May when California Highway Patrol arrested Henderson at a DUI checkpoint in Pacific Beach after they say he failed field sobriety tests. Still posing as Davis, CHP arrested Henderson and took him to jail. The San Diego County Sheriff's Department booked and fingerprinted him.
Questioning law enforcement over misidentification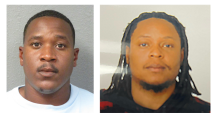 NBC 7 Investigates reached out to all of the law enforcement agencies Henderson encountered to ask how these two men could have been confused with one another, and what they're required to do to confirm a suspect's identity.
The Sycuan Tribal Government would not answer our questions or comment, citing the pending criminal case.
The CHP also declined to comment for the same reason.
The San Diego County Sheriff's Department did respond, seemingly putting the blame on CHP for the misidentification during the DUI arrest and explaining its process during booking:
"When a person is arrested, the arresting agency bears the responsibility to confirm that person's identity. Once booked into our detention facility, part of the booking process is obtaining fingerprints. Those fingerprints are sent to the Department of Justice and the FBI through the AFIS (Automated Fingerprint Identification System). We have no control over how fast either agency processes fingerprints.
The National City Police Department wouldn't comment specifically on the case but revealed that it was now looking into the misidentification.
NCPD is pleased to hear that Mr. Henderson is going to be held responsible for his pattern of alleged criminal behavior. NCPD also sympathizes with Mr. Tyeshay Davis who has apparently suffered from Mr. Henderson's criminal conduct. Because [of] your inquiry, NCPD is conducting an internal review of this case. As such, NCPD will not be providing any additional comment at this time as it relates to the criminal case against Mr. Henderson or the internal department review. Please understand that we here at the National City Police Department strive to provide the best level of service to our citizens and community.
Davis' fight to clear his name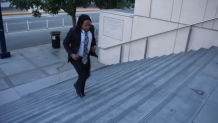 Davis said it took him months of meetings with the San Diego District Attorney's Office, the San Diego Public Defender's Office, and several law enforcement agencies to prove he wasn't responsible.
"I provided fingerprints and pictures of my tattoo, my identifying marks," Davis said.
But following the DUI arrest, Davis said he lost his job as a chauffeur and missed several career opportunities. He says he then went to CHP, which put him in touch with the arresting officer.
"He looked at my DMV photo that's on my license," Davis said. "And as he's going through the photos, he brought up the recent arrest, and he was like, 'Wow, yeah, that's definitely not you. It's not who I stopped.' And at that point in time, I knew that somebody had really messed up."
Following more lengthy meetings with prosecutors and investigators, an arrest warrant for Henderson was issued in August. He was taken into custody in mid-October and faced a judge just a few days later at his arraignment where he pleaded not guilty.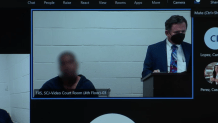 Davis was there, watching from the courtroom gallery.
"First and foremost, I'm upset that we even had to come this far," Davis told us. "When this first came about, when he got the first theft charge at Plaza Bonita, I had made it known. I told the entire household, when I [find] out who stole my passport, I'm going to push this to the max. He was right beside me, yelling in my ear, 'Yeah, man, that's foul. Whoever stole it, that's wrong. You should definitely push it to the max.' So, I mean, that's what I'm going to do."
Henderson will be back in court later this month. If he's convicted, prosecutors say he faces a maximum of nine years in prison. NBC 7 Investigates reached out to Henderson and his public defender, but neither responded to our inquiries.
Davis' record is now clear of any of the crimes that Henderson is now charged with. He also got his job back. He says what he had to go through wasn't easy, but says he's glad he was able to keep a level head as his reputation and livelihood hung in the balance.
"I mean, they say diamonds are forged in the fire," Davis said. "Fire is under pressure, so I don't know. I feel like I've always learned to adapt and overcome in tough situations. These things that are happening or that happened are more just minor setbacks, blocks in the road. Each time something came up that I was denied for, it hurt for a minute, but then it made me reroute to something else. At the end of it all, I can't stop."
Preventing identity theft and clearing your name
"This poor man, my heart goes out to him," Eva Velasquez with the Identity Theft Resource Center told us. "He's a victim of criminal identity theft."
Velasquez told us cases like this one are rare, saying about 4% of their calls last year were crimes of opportunity, where victims knew the suspect. She says our identity documents, like passports, social security cards, and driver's licenses, are tied to so many facets of our lives that thieves can misuse them in a lot of ways. Velasquez says the best advice is to safeguard your sensitive documents.
"One of the best things that you can do is treat those documents like you would cash," Velasquez said. "You wouldn't just leave a wad of cash sitting out in a common area, easily accessible, where everyone can just pick it up. And you wouldn't leave it in an insecure location in your home, maybe just in the top of a drawer somewhere where people know where it is."
It's a lesson Davis says he had to learn the hard way.
"Can't trust everybody, especially those that you once held close," Davis said. "So just make sure you're on top of where your documents are, your personal documents, and the very moment you notice your documents gone, report it then."
Velasquez says criminal identity theft victims should do what Davis did.
"The process to demonstrate that you are not the one that committed this crime, it's going to vary from jurisdiction to jurisdiction," Velasquez said. "Your best bet is to start with the local police department in that area, the court system in that area and the prosecutor's office in that area."
There are other resources available for victims online: