From NBC 7 comes STOLEN; an expansive documentary series about sex trafficking and the exploitation of children in San Diego County and beyond.
Told from multiple perspectives, STOLEN explains why the illicit child sex market thrives in San Diego County and across the U.S., while chronicling the strength of survivors, their families, and advocates working to break that destructive cycle and reclaim their stolen lives.
Understand the issue in a new way by hearing the jailhouse recordings of a convicted trafficker manipulating two teen girls into selling themselves online. The tapes led to an NBC7 investigation exposing gaps in the justice system that allow people who pay to sexually assault children to face little to no consequences.
The seven-episode documentary series is the product of a year-long investigation that includes exclusive interviews and, for the first time ever, substantial proof of the scope of the problem in San Diego County schools. And as a global pandemic shifts the education system into a virtual space, experts warn of exploiters targeting children online, now more than ever before.
National Human Trafficking Hotline: 1-888-373-7888 TEXT BeFree or 233733.
JOURNEY TO FREEDOM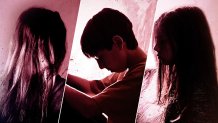 Every survivor has a unique journey. Here are three survivor stories told through composite characters. These stories are based on documented scenarios, research and personal accounts. Follow their journey and learn how to spot the warning signs of exploitation. Hear from survivors and experts about similar, real-life situations. Learn about community resources, agencies and organizations working together to rescue and support survivors while preventing others from entering a life of exploitation. Find out how you can be part of the change.
---
LETTERS TO YOUNGER SELVES
Three survivors featured in NBC 7's documentary series "STOLEN" – Jaimee Johnson, Marcia Harrison, and Marjorie Saylor – wrote letters about their painful journey out of a life of exploitation and abuse, addressed to their younger selves.
In them, each of these brave women describes some of their most difficult struggles and fears. But they also depict the hope they've discovered along the way. Read the letters here.
---
MORE CONTENT
---
How Much Do You Know About Trafficking?
---
If you or someone you know could be a victim of sex trafficking or exploitation, call the National Human Trafficking Hotline at 1-888-373-7888 or text the words "BeFree" or 233733
Design and development by Nelson Hsu / NBC