The coronavirus death toll in the U.S. has climbed to nearly 19,000 while the total number of cases surpassed 500,000, according to a tally from John's Hopkins University.
New York state leads the world in coronavirus infections with over 160,000 confirmed cases, a number that only counts infected people who have been tested. The death toll in the state has climbed to more than 7,800, with the majority of the cases and fatalities concentrated in New York City.
Worldwide, more than 1.6 million have been diagnosed since the virus emerged in China in December. The death toll reached a grim milestone on Friday, topping 100,000 fatalities globally.
Here are the latest developments in the coronavirus crisis in the U.S.:
Burning Man Canceled, Virtual Festival on Instead
Burning Man, the music festival that takes over the Nevada desert every summer, has been canceled, organizers announced Friday night.
Instead of setting up its venue in the Black Rock desert, the festival will instead take place virtually.
"In 2020 we need human connection and Immediacy more than ever, " the statement read. "But public health and the well-being of our participants, staff, and neighbors in Nevada are our highest priorities."
Details about the virtual event are still being ironed out, including whether participants will need to purchase a ticket.
Although the statement acknowledged the virtual event would likely be "messy and awkward with mistakes," the organizers invited people to hold onto their tickets and make a tax-deductible donation to the Burning Man Project.
The organization said that with the cancellation, it expects substantial staff layoffs and pay cuts will be needed to ensure it can remain operational until the 2021 festival season.
"This is going to be a tough year for us, as we know it will be for you, but we will get through it together," the statement read.
The group added it was committed to providing refunds to those who need them. Ticketholders can request a refund through their profile on the site.
Tickets for the event, which first started in 1986 on a San Francisco beach, cost nearly $500.
More than 70,000 people flood Burning Man's Black Rock City venue, according to a festival census.
The festival was set to run from Aug. 30 through Sept. 7.
---
Experimental Drug Remdesivir Shows Potential, Early Research Suggests
Early research shows an experimental treatment for the coronavirus may help very sick patients improve their breathing, though experts caution more studies are needed before the drug, remdesivir, can be recommended, NBC News reports.
The research, published Friday in The New England Journal of Medicine, looked at 53 coronavirus patients who had been given remdesivir through what's called "compassionate use."
In a majority of the patients — 68 percent — doctors were able to reduce the amount of oxygen support needed. What's more, 17 of 30 patients who'd been on ventilators were able to come off of those machines. That's important because COVID-19 patients who need to be put on ventilators appear to be more likely to suffer long-term health consequences, and may have worse outcomes.
Read the full story at NBCNews.com.
---
US Surgeon General: Higher Death Rate in Minority Communities Is 'Not Surprising'
U.S. Surgeon General Jerome Adams said it's "alarming but not surprising" that people of color are disproportionately affected by the coronavirus pandemic when considering the mortality figures, noting minorities often have a greater burden of chronic health conditions that would make them more vulnerable to severe complications from the new disease.
"We do not think people of color are biologically or genetically predisposed to get COVID-19," Adams said Friday during the coronavirus task force's daily briefing. "But they are socially predisposed to coronavirus exposure and to have higher incidence of the very diseases that put you at risk for severe complications of coronavirus."
Community leaders in cities hard-hit by the pandemic have been sounding the alarm over what they see as a disturbing trend of the virus killing African Americans at a higher rate.
Of the victims whose demographic data was publicly shared by officials — nearly 3,300 of the nation's 13,000 deaths thus far — about 42% were black, according to an Associated Press analysis. African Americans account for roughly 21% of the total population in the areas covered by the analysis.
Adams said the government is taking steps to combat the "alarming" trend, including working "on data collection, targeted outreach, and increasing financial employment, education, housing, social and health support so everyone has an equal chance to be healthy."
He also urged communities of color to adhere to the CDC's social distancing guidelines.
Adams also defended his call for African Americans and Latinos to "avoid alcohol, tobacco and drugs" and urged the minority communities to follow social distancing guidelines.
"If not for yourself, then for your abuela. Do it for your granddaddy. Do it for your big mama. Do it for your pop-pop," Adams said.
He spoke in personal terms about having asthma, revealing that he has been carrying an inhaler for 40 years. He said he did so in the hopes of inspiring children with the condition that they too could one day become surgeon general.
---
Cuomo: National Testing System Is Key to Reopen Economy
A day after President Donald Trump said a national testing system is not needed, New York Gov. Andrew Cuomo said testing will be key to reopening the economy.
Cuomo said Friday antibody testing, which could identify whether a person was recently exposed to the coronavirus, will hasten a return to the workforce, NBC New York reports. He, along with some of the nation's top experts, say it's unlikely someone who has had the novel coronavirus will get re-infected because their course with it may grant them the precious immunity no one had before becoming infected with it themselves. If testing gets to the point where people can be tested for antibodies even without a prior COVID-19 test, many more could get back to work even sooner.
"It's going to be reliant on testing, testing of antibodies, testing for diagnostic results. Testing on a scale that we have not done before," Cuomo said.
But pace is the issue - Cuomo said the state's health department is able to do 300 a day and he expects that number to be 1,000 by next Friday and 2,000 a day by the following week. He called on Trump to use the Defense Production Act to streamline coronavirus testing, saying that leaving it up to states is a "slower, less uniform, less effective process."
"It's still not enough if you want to reopen on a meaningful scale and reopen quickly," he said.
Dr. Anthony Fauci, the nation's top infectious disease official, told CNN on Friday the test would help medical experts determine how deeply the virus has spread in the country and whether previously infected people would be vulnerable to reinfection, which is particularly "important for health care workers."
---
DOJ Probing Conditions at Mass. Veterans Center After Deadly Outbreak
The Department of Justice's Civil Rights Division and the U.S. Attorney's Office for the District of Massachusetts have opened an investigation into Soldiers' Home in Holyoke to determine if a deadly coronavirus outbreak among residents was the result of inadequate care by staffers, NBC Boston reports.
Since March 21, 28 of 32 veterans who died at the facility have tested positive for COVID-19, according to NBC affiliate WWLP. At least 69 residents and 68 staffers have tested positive for the virus.
"Our hearts go out to the families of the veterans who passed away," said Eric Dreiband, assistant attorney general for civil rights. "We owe it to the veterans, their families, and the public to investigate the facts, determine what happened, ensure compliance with the Civil Rights of Institutionalized Persons Act, and protect those veterans who continue to reside at the Soldiers' Home."
---
CDC Extends 'No Sail' Order for Cruises Indefinitely
The Centers for Disease Control and Prevention has extended its "no sail order" for all cruise ships indefinitely.
"We are working with the cruise line industry to address the health and safety of crew at sea as well as communities surrounding U.S. cruise ship points of entry," CDC Director Robert Redfield said in a statement. "The measures we are taking today to stop the spread of COVID-19 are necessary to protect Americans, and we will continue to provide critical public health guidance to the industry to limit the impacts of COVID-19 on its workforce throughout the remainder of this pandemic."
The original order was put in place on March 13 and was supposed to extend for 30 days. On Thursday, the CDC updated their timeline to keep the order in effect until one of three events takes place: Federal health officials determine COVID-19 is no longer a public health emergency, Redfield rescinds or modifies the order based on specific public health or "other consideration" or "100 days from the date of publication in the Federal Register."
---
---
Lawmakers Urge Treasury to Protect Stimulus Checks From Debt Collectors
Sens. Sherrod Brown, D-Ohio, and Josh Hawley, R-Mont., are urging the U.S. Treasury Department to exert its ability to protect direct payments from debt collectors seizing — or "garnishing" — the money directly, CNBC reports.
The more than $2 trillion relief bill know as the CARES Act signed last month to help alleviate the financial pain from the coronavirus pandemic calls for one-time direct payments of up to $1,200 for individuals and $2,400 for couples, with $500 added for every child.
IRS Explains the Stimulus Checks: What You Need to Know
The bill, though, does not explicitly protect those payments from being seized by debt collectors, a protection Hawley and Brown are urging it to add, with the exception of child support. The Treasury already uses its authority to protect social security payments from similarly being seized.
"Congress included this critical relief in order to help American families struggling to pay for food, medicine, and other basic necessities during the novel coronavirus (COVID-19) pandemic and resulting economic crisis," Brown and Hawley wrote in a joint letter Thursday to Treasury Secretary Steven Mnuchin.
Calculate Your Coronavirus Stimulus Payment
Source: Staff reports, NBC News
Credit: Nelson Hsu, Vince Lattanzio / NBC
---
Looking for New Burial Solutions, NYC Shortens Deadline to Claim Dead
As New York City deals with a mounting coronavirus death toll and dwindling morgue space, the city has shortened the amount of time it will hold unclaimed remains before they are buried in the city's public cemetery, NBC New York reports.
Under the new policy, the medical examiner's office will keep bodies in storage for just 14 days before they're buried in the city's potter's field on Hart Island.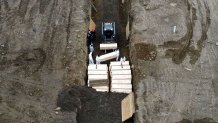 Additionally, Mayor Bill de Blasio said this week officials are looking into using the island to temporarily bury coronavirus victims if morgues and temporary storage units fill up.
In recent days, burial operations on the island have increased from one day a week to five days a week, with around 24 burials each day, said Department of Correction spokesman Jason Kersten.
How Long Until Coronavirus Will Cause Peak Hospital Use Across the Country
This interactive chart uses model data provided by the Institute for Health Metrics and Evaluation to predict how the coronavirus will affect health care resources in different states. The maximum hospital bed use in some states, such as New York, has already passed while in others it is weeks away. Most states have enough general hospital and ICU beds to meet demand, according to additional data from The Associated Press.
Sources: State hospital bed capacity data from the Associated Press. Model data provided by IHME. Note: The model assumes full social distancing through May 2020.
Credit: Amy O'Kruk/NBC
---
Trump Allies Begin Embracing Mail-In Voting
President Donald Trump is warning without evidence that expanding mail-in voting will increase voter fraud. But several GOP state officials are forging ahead to do just that, undermining one of Trump's arguments about how elections should be conducted amid the coronavirus outbreak.
While Trump has complained that voting by mail was "ripe for fraud," Republican state officials in Iowa, Ohio and West Virginia have all taken steps to ease access to mail-in ballots, following health officials' warnings that voting in person can risk transmission of the deadly virus. The Republican governor of Nebraska urged voters to apply for absentee ballots. Florida's GOP chairman says the party will continue to run a robust vote-by-mail program.
The disconnect between Trump and Republican state officials illustrates the abrupt, hard turn the president and his national political allies have taken on the issue. Before the coronavirus hit, many in the GOP had warmed to mail-in voting, agreeing that it can be conducted without fraud and even used to their political advantage.
But Trump's hard line appears to be driven by his personal suspicions and concerns about his own reelection prospects. Statewide mail-in voting "doesn't work out well for Republicans," he tweeted this week.
How Long Until Coronavirus Will Cause Peak Hospital Use Across the Country
This interactive chart uses model data provided by the Institute for Health Metrics and Evaluation to predict how the coronavirus will affect health care resources in different states. The maximum hospital bed use in some states, such as New York, has already passed while in others it is weeks away. Most states have enough general hospital and ICU beds to meet demand, according to additional data from The Associated Press.
Sources: State hospital bed capacity data from the Associated Press. Model data provided by IHME. Note: The model assumes full social distancing through May 2020.
Credit: Amy O'Kruk/NBC
The Associated Press/NBC