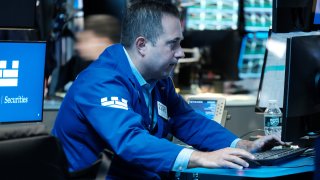 The Dow Jones Industrial Average cut a nearly 500-point intraday loss Monday as technology names like Microsoft rallied amid falling interest rates.
The blue-chip average rose 238.06 points, or 0.7%, to 34,049.46. The index was down as much as 488 points earlier in the session. The S&P 500 ticked up 0.6% to 4,296.12. The tech-heavy Nasdaq Composite gained 1.3% at 13,004.85.
Concerns about a global economic slowdown amid Covid outbreaks in China sent interest rates lower. The 10-year Treasury yield pulled back to the 2.8% level.
Tech shares rebounded as rates fell, providing support to the major averages. Microsoft rose 2.4%, the second-biggest gainer on the Dow. Google-parent Alphabet also gained nearly 2.9%, and Facebook-parent Meta added about 1.6% ahead of quarterly earnings reports slated for later this week.
Twitter jumped roughly 5.7% after the social media company announced it accepted billionaire Elon Musk's buyout deal valued at about $44 billion.
"We have a focus on mega tech stocks this week. It's so beat up, so oversold … so you're seeing money come in and get redeployed. There's opportunity," said Jeff Kilburg, chief investment officer and portfolio manager of Sanctuary Wealth.
Stocks bounced after the Nasdaq Composite fell into a bear market last week. The Nasdaq is now down 19.8% from its record, while the S&P 500 is back in correction territory, down 10.8% from its high. The Dow is coming off its worst one-day performance since 2020 on Friday and four straight losing weeks. The S&P 500 and the Nasdaq fell for three consecutive weeks.
Wall Street is bracing for a stacked week of earnings, particularly reports from major technology companies. About 160 companies in the S&P 500 are expected to report earnings this week, and all eyes will be on results from mega-cap tech names, including Amazon, Apple, Alphabet, Meta Platforms and Microsoft.
"This week may easily be a fork in the road of equities. … Bottom-up drivers will either confirm or reject what the challenging macro backdrop has given us over the last three weeks," MKM's JC O'Hara said in a note.
Coca-Cola shares closed up nearly 1.1% after the company reported better-than-expected quarterly earnings before the bell Monday.
On the downside, fears of a global slowdown sent oil prices lower. WTI crude settled 3.5% lower Monday, back below $100.
Energy shares retreated, comprising the worst-performing S&P 500 sector Monday. Chevron fell about 2.2% and was the second-biggest decliner on the Dow. Exxon Mobil lost nearly 3.4%.
Copyright CNBC