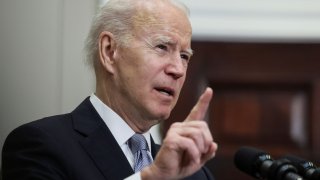 This has been CNBC's live blog covering updates on the war in Ukraine. [Follow the latest updates here.]
Mariupol officials say satellite images captured by Maxar show mass graves 20 times bigger than a cemetery discovered in the city of Bucha this month. In a statement on Telegram, officials said the site in the village of Mangush could hold 3,000 to 9,000 — and that 70 bodies were found so far, according to NBC translation. 
Meanwhile, the United States said it will send a new $800 million weapons package to Ukraine and $500 million in direct financial support as Ukrainians try to fend off renewed Russian attacks on the eastern and southern parts of the country.
Russian President Vladimir Putin ordered his military to ditch its plan to storm the Azovstal steel plant in the besieged city of Mariupol, where several thousand Ukrainian troops as well as civilians are encamped, opting instead to continue to seal off the facility via blockade.
Ukrainian officials say up to 9,000 people may be buried in a mass grave near Mariupol
As many as 9,000 people may be buried in a mass grave in a village outside the city of Mariupol, Ukrainian officials said in a statement on Telegram.
Satellite images captured by the U.S. defense contractor Maxar show mass graves 20 times bigger than a cemetery discovered this month in the city of Bucha, the Mariupol City Council said, according to NBC translation. The site in the village of Mangush could hold 3,000 to 9,000 — and 70 bodies have been found so far, the city council.
Maxar said the graves appeared toward the end of March and expanded in April.
CNBC and NBC were not able to independently confirm the report.
"The biggest war crime of the 21st century was committed in Mariupol. This is the new Babyn Yar," said Mariupol's Mayor Vadym Boychenko, referring to the Kyiv ravine where Nazi forces killed an estimated 33,000 Jews in 1941.
"And now Putin is destroying Ukrainians. He has already killed tens of thousands of civilians in Mariupol. And this requires a strong reaction from the entire civilized world. Anything needs to stop the genocide," said the mayor.
The embattled city of Mariupol has been hit especially hard as victory there will be a prized target for Russia. The capture of the southern port city will give Moscow control over much of Ukraine's southern coast and provide a land corridor to Crimea, which the Kremlin annexed from Ukraine in 2014.
— Chelsea Ong
Japan minister says exiting Sakhalin energy projects could undermine Western sanctions
Japan's industry minister said exiting the Sakhalin energy projects could reduce the impact of Western sanctions and benefit Russia, Reuters reported.
Japan and Russia both hold stakes in the Sakhalin-1 and Sakhalin-2 integrated oil and gas projects.
"We are concerned that if Japan withdraws from the project and the concessions are acquired by Russia or a third country, it could further boost resource prices and benefit Russia, which will not result in effective sanctions," Japanese Economy, Industry and Trade Minister Koichi Hagiuda told a news conference, Reuters reported.
Japanese Prime Minister Fumio Kishida previously said he will not abandon the project in order, citing his country's energy security.
Earlier, the Telegraph reported Shell is in talks with some Chinese companies to sell its stake in the project.
— Chelsea Ong
Zelenskyy says Russia rejected Easter truce proposal
Russia rejected an Easter truce proposal, Ukrainian President Volodymyr Zelenskyy said in his nightly video address.
"This shows very well how the leaders of this state actually treat the Christian faith, one of the most joyful and important holidays," he added, though he said he still hopes for peace.
Earlier, U.N. Secretary-General Antonio Guterres called for a four-day pause to the fighting in Ukraine during the Orthodox Christian Easter to evacuate civilians and allow humanitarian aid to be sent into needy areas.
Zelenskyy also said Mariupol continues to resist Russia, despite Russian President Vladimir Putin's claim of victory in the city.
— Chelsea Ong
CEO of Russia's second-largest oil company Lukoil resigns in wake of sanctions
Vagit Alekperov, the longtime CEO of Russia's second-largest oil company Lukoil, informed the board that he would resign from the company Thursday, according to a statement.
A former oil rig worker who founded Lukoil in 1993, Alekperov had been at the helm of the company for nearly 30 years, amassing a fortune estimated at around $10.5 billion. According to Lukoil, Alekperov controls slightly over 8% of the company, which reported revenues of $131 billion last year.
Seen as relatively independent from the Kremlin, Alekperov managed to escape the first several rounds of Western sanctions, during which many of his fellow Russian billionaires were targeted.
Last week, both the United Kingdom and Australia sanctioned Alekperov, instructing banks to freeze his assets in their countries. Reuters reported that Alekperov decided to resign in order to protect the company's operations.
— Christina Wilkie
Russia is failing in Ukraine thanks in part, to Western sanctions, top U.S. official says
U.S. Deputy Secretary of State Wendy Sherman said Western sanctions have been key in preventing Russia from deepening its invasion of Ukraine.
"What we have all tried to make sure is that whatever we do hurts Putin," Sherman said before an audience at an event organized by the Friends of Europe think-tank in Brussels.
"What we are aiming for here is a strategic failure for Vladimir Putin and the Kremlin and I believe that is already happening," Sherman said, adding that the raft of Western sanctions will have a long-term impact.
Sherman said that so far the U.S. and its allies have imposed sanctions on more than half of Russia's high-tech imports, more than 80% of assets in the Russian banking sector, designated more than 2,100 Russian and Belarusian individuals and entities, including Russian President Vladimir Putin and senior government officials that enable the Kremlin's war.
For nearly eight weeks, Russian forces have faced a slew of battlefield logistics that stalled advances on Ukraine's capital Kyiv. 
— Amanda Macias
Farmers in Ukraine will plant 80% of the land they did pre-invasion, says prime minister
Ukraine's Prime Minister Denys Shmyhal says farmers in the country expect to sow and farm 80% of the land they did a year ago, before Russia's invasion of the country.
That figure is higher than the 75% the Agriculture Ministry predicted earlier this month, and a world away from initial concerns in March that the unprovoked Russian attack might force farmers to cut agricultural production by as much as half.
Ukraine is the world's largest fifth largest exporter of grain, fourth largest of corn, and exports more sunflower (safflower) oil than any country in the world. So any change in the farming output from Kyiv immediately reverberates across Europe, Asia and Africa.
Once crops are harvested, Shmyhal said there will be additional challenges this year in getting them to market. Russian ships are currently blockading Ukraine's major ports on the Black Sea and the Sea of Azov.
--- Christina Wilkie
Refugees from besieged Mariupol arrive in Zaporizhzhia
— Reuters
'Nearly every corner in Bucha is now a crime scene,' Human Rights Watch says
A new Human Rights Watch report alleged that Russian forces committed "a litany of apparent war crimes during their occupation of Bucha."
Human Rights Watch said its researchers went to Bucha days after Russian troops withdrew from the area and found extensive evidence of executions, other unlawful killings and torture, "all of which would constitute war crimes and potential crimes against humanity."
"Nearly every corner in Bucha is now a crime scene, and it felt like death was everywhere," said Richard Weir, crisis and conflict researcher at Human Rights Watch, in the report. "The evidence indicates that Russian forces occupying Bucha showed contempt and disregard for civilian life and the most fundamental principles of the laws of war."
The Human Rights Watch report was compiled after researchers analyzed physical evidence, photographs and videos, and after they spoke with 32 Bucha residents, emergency responders, morgue workers, doctors and local officials.
— Amanda Macias
UK sanctions top Russian military leaders, including 'Butcher of Bucha'
The United Kingdom unveiled new sanctions targeting top Russian military leaders, including the "Butcher of Bucha."
"Today's new wave of sanctions hits the generals and defense companies that have blood on their hands," wrote Foreign Secretary Liz Truss in a statement announcing the new measures.
Among those sanctioned are Russian Lt. Col. Azatbek Omurbekov, the commanding officer of the unit that occupied Bucha, where there have been reports of war crimes. Omurbekov, dubbed the "Butcher of Bucha," is subject to a travel ban and an asset freeze in the U.K.
Russian Col. Gen. Andrey Serdyukov, commander of Airborne Forces, is one of six senior commanders who oversee the different districts of the Kremlin's invasion of Ukraine. He also headed the operation of the annexation of Crimea by Russia in 2014, according to the British government. Serdyukov is also subject to a travel ban and asset freeze.
The U.K. government has sanctioned approximately $1 trillion worth of global assets from Russian banks and oligarchs and their families, according to figures provided by the British government.
— Amanda Macias
Biden outlines program for accepting Ukrainian refugees
The Biden administration unveiled a new program to expedite the admission of Ukrainian refugees into the U.S.
Through a web portal expected to launch Monday, individuals and organizations in the U.S. can apply to sponsor Ukrainians fleeing Russia's invasion. Thousands of Ukrainians previously fled to Mexico and sought refuge at the U.S.-Mexico border, where they were able to enter under a special refugee status.
Biden has said the U.S. will accept as many as 100,000 Ukrainian refugees.
The policy change could strand some Ukrainians who are already at or near the U.S. border with Mexico.
— Christina Wilkie
U.S. will give Ukraine 'as much as they need' in military aid, top House Dem says
House Majority Leader Steny Hoyer, D-Md., said he assured Ukraine's prime minister that additional U.S. aid packages will keep Ukraine stocked with ammo to fight invading Russian forces.
"I told him, my response was 'as much as they need,'" Hoyer told reporters after leaving a meeting with Ukrainian Prime Minister Denys Shmyhal on Capitol Hill.
Shmyhal requested that the U.S. provide "different types of weapons systems, ordinance, ammunition" during the meeting, Hoyer said.
"Obviously we need to keep them in ammunition. They cannot run out of ammunition. We're going to do that," he said.
The bipartisan leadership meeting came after Shmyhal met with President Joe Biden at the White House. Following that meeting, Biden announced that the U.S. would send an additional $1.3 billion in military and economic aid to Ukraine.
— Kevin Breuninger
White House releases photo of Biden meeting with Ukraine's prime minister
The White House has released a photo of President Joe Biden's meeting with Ukrainian Prime Minister Denys Shmyhal, which took place just before Biden announced a slate of new sanctions on Russia as well as $1.3 billion in new military aid and government assistance for Kyiv.
The meeting was not on Biden's public schedule and it was not open to press. But the photo of the two men, shown in the classic seated pose in the Oval Office where Biden meets other world leaders, conveys the respect and high esteem the president has for Shmyhal, and by extension, for Ukraine.
— Christina Wilkie
U.S. will send rapidly developed secret "Phoenix Ghost" drones in latest Ukraine package
The United States is sending a highly secretive tactical drone to Ukraine in the latest $800 million security package.
Pentagon spokesman John Kirby said that the drones were "rapidly developed by the Air Force, in response, specifically to Ukrainian requirements."
The drones, dubbed "Phoenix Ghost," are tactical unmanned aerial systems manufactured by Aevex Aerospace in Solana Beach, California. Once the drones are in the region, U.S. troops will have to train Ukrainian forces on how to operate them, Kirby added.
The Pentagon did not provide a timeline for when the drones would arrive in the region.
"It provides similar capabilities to the Switchblade series of unmanned systems, similar capabilities but not exact," Kirby said of the more than 121 drones included in the latest military assistance package. "There are other differences in the scope of capability for the Phoenix Ghosts, but I'm just not going to be able to get into more detail about those capabilities right now."
— Amanda Macias
Zelenskyy says 120,000 civilians are blocked from leaving Mariupol
Around 120,000 civilians are blocked from leaving the besieged city of Mariupol, Ukraine's President Volodymyr Zelenskyy said.
— Reuters
Here's what's in the next $800 million weapons package for Ukraine
The Pentagon detailed the contents of the latest $800 million security package tailored to a renewed Russian offensive in eastern Ukraine.
The eighth U.S. military aid installment includes:
72 155mm howitzers
144,000 artillery rounds
72 tactical vehicles to tow 155mm howitzers
Over 121 Phoenix Ghost tactical unmanned aerial systems
Field equipment and spare parts
The United States has committed approximately $3.4 billion in security assistance to Ukraine since the beginning of Russia's unprovoked invasion on Feb. 24.
— Amanda Macias
U.S. will send $800 million military package, $500 million in economic aid to Ukraine
The U.S. will send about $1.3 billion in military and direct economic aid to Ukraine, President Joe Biden said.
The Biden administration will provide a new $800 million arms package that includes more heavy artillery, as Russian ramps up its assault on eastern and southern Ukraine. The White House also plans to send $500 million in direct economic aid to Ukraine.
"This package includes heavy artillery weapons, dozens of howitzers and 144,000 rounds of ammunition to go with those howitzers," Biden said at the White House.
The military aid adds to an $800 million package Biden announced last week. The U.S. also sent $500 million in direct economic assistance last month.
— Amanda Macias
Biden meets with Ukrainian Prime Minister Shmyhal
President Joe Biden met with Ukrainian Prime Minister Denys Shmyhal as the country fights off a fresh Russian assault.
Biden and Shmyhal spoke before Biden announced a new $800 million military aid package to Ukraine. Biden said he discussed the new arms transfer with Shmyhal.
Shmyhal was also set to meet with House Speaker Nancy Pelosi while he was in Washington.
— Jacob Pramuk
Biden set to deliver remarks on war in Ukraine
President Joe Biden is expected to give an update on the war in Ukraine amid a renewed Russian offensive in the country's east.
Biden is set to speak from the Roosevelt Room of the White House at 9:45 a.m. E.T. before traveling to Portland and Seattle to discuss his administration's infrastructure policy plans. His remarks come on the heels of a Wednesday afternoon meeting with his military commanders and national security officials for assessments on global threats as well as the ongoing war in Ukraine.
Ahead of the meeting, Biden said that U.S. security assistance is flowing into the region daily and that allies are "stepping up and amplifying the impact of our response." The U.S. has authorized $2.6 billion in security assistance to Ukraine since the start of Russia's war.
What's more, the White House is expected to announce another substantial security assistance package for Ukraine this week, five U.S officials familiar with the matter confirmed to NBC News on Tuesday.
— Amanda Macias
Prime ministers of Spain, Denmark arrive in Kyiv for Zelenskyy visit
Spain and Denmark's prime ministers visited Kyiv to meet with Ukrainian President Zelenskyy, and made statements of support for the country while visiting areas around the capital that had witnessed Russian atrocities against civilians.
Spanish Prime Minister Pedro Sanchez posted a video on Twitter from the town of Borodyanka along with his Danish counterpart Mette Frederiksen. In the post he described seeing the "horror and atrocities of Putin's war on the streets of Borodyanka," adding, "We will not leave the Ukrainian people alone."
Frederiksen told press, "We intend to deliver more weapons to Ukraine because that is what is most needed," and that her office would also focus on prosecuting "war crimes and human rights violations."
— Natasha Turak
Ukraine proposes talks 'without conditions' with Russia over Mariupol evacuations
Ukraine is proposing talks with Russia without conditions in an effort to save lives in the embattled city of Mariupol, a Ukrainian government negotiator said.
"Yes. Without any conditions. We're ready to hold a "special round of negotiations" right in Mariupol. One on one. Two on two. To save our guys, Azov, military, civilians, children, the living & the wounded. Everyone," negotiator and presidential advisor Mykhailo Podolyak tweeted.
Another negotiator, David Arakhamia, said in an post online: "Today, in a conversation with the city defenders, a proposal was put forward to hold direct negotiations, on site, on the evacuation of our military garrison," he said. "For our part, we are ready to arrive for such negotiations at any time as soon as we receive confirmation from the Russian side."
A few thousand Ukrainian troops and civilians are holed up in Mariupol's massive Azovstal steel plant under heavy Russian shelling, and have ignored two deadlines from Moscow to surrender in the past week, though some Ukrainian commanders have warned that they may be facing their final days.
Russian President Vladimir Putin on Thursday called off plans to storm the facility, instead instructing Russian forces to continue blockading it.
Humanitarian corridors to evacuate civilians have seen limited success in recent weeks, and fewer civilians able to leave in the last 24 hours than Ukraine's government had hoped. Around 100,000 civilians are left in the southern port city, down from a pre-invasion population of almost 500,000.
— Natasha Turak
UN says 2,345 killed in Ukraine since start of war, warns death toll is likely higher
The United Nations says it has confirmed 2,345 civilian deaths and 2,919 injuries in Ukraine since Russia invaded its ex-Soviet neighbor on Feb. 24.
Of those killed, the U.N. has identified at least 44 girls and 63 boys, as well as 70 children whose gender is unknown.
The Office of the UN High Commissioner for Human Rights said Monday that the death toll in Ukraine is likely higher, citing delayed reporting due to the armed conflict.
The international body said most of the civilian casualties recorded were caused by the use of explosive weapons, including shelling from heavy artillery and multiple launch rocket systems, as well as missiles and airstrikes.
— Amanda Macias
Slim majority of people in Sweden support joining NATO, poll finds
A majority of Swedes support joining the NATO alliance, a survey by polling institute Novus found.
The poll found 51% of Swedes were in favor of joining the 30-country military group, up from 45% one week prior. It comes as Sweden's government prepares to debate whether it should apply to join NATO and abandon its long-held policy of neutrality.
Finland and Sweden expressed their clearest interest yet in joining NATO earlier this month, saying their security assessments had changed dramatically following Russia's invasion of Ukraine.
Swedes generally expect that a bid to join the alliance would be done in tandem with Finland, Novus found, saying that if Finland joined the alliance, 64% of Swedes polled said they supported joining as well.
— Natasha Turak
From soaring food prices to social unrest, the fallout from the war could be immense
Whatever happens on the front line in the next few days and weeks, the shock waves from the conflict will continue to reverberate around the globe with both the World Bank and IMF lowering their global growth forecasts.
Both institutions said the downgrades to their forecasts had been made as they expected supply shocks to intensify, and for commodity prices — of which Russia and Ukraine are major suppliers — to rise dramatically.
What's more, the Ukraine–Russia region is seen as one of a small handful of global "breadbaskets" (or major food producers) and plays a vital role not only as an exporter of primary staples like wheat, but also as one of the major suppliers of fertilizer worldwide.
The depth of the impact on the global economy depends on how long the war lasts, and the scale of the devastation and disruption that it causes. There are no signs Russia is willing to relent anytime soon, despite being hit with a raft of international sanctions targeting vital sectors of its economy, from oil and gas to its financial system. 
— Holly Ellyatt
How Ukraine's mud became a secret weapon against Russia
The timing of Russia's invasion, which began on Feb. 24, coincided with what is known locally as the "muddy road season," or "Rasputitsa" in Russian.
It's a phenomenon that takes place twice a year, first in spring — when the winter freeze subsides and the country's terrain and unpaved roads become virtually unpassable as they turn to mud — and then in the fall, when there can be heavy rain.
The mud is seen by military experts to have helped to slow Russia's advance in parts of the country, particularly the north. Images and videos circulating online have shown Russian tanks, trucks and other armored vehicles stuck and abandoned on muddy roads or fields in Ukraine.
— Holly Ellyatt
Russia is 'furiously bombing' Ukraine's second-biggest city Kharkiv, mayor says
Ukraine's second-largest city, Kharkiv, is under heavy bombardment, its mayor said.
"Huge blasts, the Russian Federation is furiously bombing the city," Kharkiv Mayor Ihor Terekhov said in a televised address, according to a Reuters translation.
Terekhov said that 1 million people remain in the northeastern city and about 30% of the pre-war population have fled — primarily women, children and the elderly.
— Natasha Turak
Zelenskyy says relationship with France's Le Pen could change if she retracts statements on Russia
Ukrainian President Volodymyr Zelenskyy said that his relationship with French presidential candidate and far-right politician Marine Le Pen could be different if she admits that her previous statements on Ukraine and Vladimir Putin were wrong.
"If the candidate understands that she was wrong, our relationship could change," Zelenskyy said in an interview on French channel BFMTV.
Le Pen has long been a supporter of Putin, though she has tried to distance herself from that history since Moscow's invasion of Ukraine. She was pictured shaking his hand during a Kremlin visit in 2017, and has taken Russian loans for her campaign. She was barred from entering Ukraine since 2017 after trying to justify Russia's annexation of Crimea.
Zelenskyy's comments followed the French presidential debate on Wednesday, which pitted Le Pen against incumbent Emmanuel Macron, just days before the country's election. The Ukrainian leader said that he has good relations with Macron and "did not want to lose them."
— Natasha Turak
Putin cancels storming of Mariupol steel plant, instructs it to be sealed off instead
Russian President Vladimir Putin has ordered his military to ditch its plan to storm the Azovstal steel plant in the besieged city of Mariupol, where Ukrainian troops as well as civilians are encamped. He is opting instead to continue to hermetically seal off the facility via blockade.
"I consider the proposed storming of the industrial zone unnecessary," Putin said in a televised meeting at the Kremlin with his defense minister, Sergei Shoigu. "I order you to cancel it." He cited preserving the lives of Russian soldiers in his reasoning.
"There is no need to climb into these catacombs and crawl underground through these industrial facilities," he said. "Block off this industrial area so that a fly cannot not pass through."
Putin also urged the Ukrainian fighters left in the massive steel plant complex to lay down their arms, claiming that Russia would treat them with respect. Ukrainian troops have now ignored two Russian deadlines to surrender the southern port city, which has been the site of the most intense fighting since Russia invaded its neighbor on Feb. 24, and has been cut off from water, food, electricity, and heating for nearly two months.
— Natasha Turak
Chechen leader says Mariupol will fall to Russia today
Chechen leader and staunch Putin ally Ramzan Kadyrov said that Russia will capture the city of Mariupol today. The southern port city has been the center of the most intense fighting since Russia launched its invasion of Ukraine in February. At least 10,000 Chechen troops are estimated to have been deployed to Ukraine in support of Russia.
"Before lunchtime, or after lunch, Azovstal will be completely under the control of the forces of the Russian Federation," Kadyrov said in an audio message posted online early Thursday, Reuters reported. Azovstal is Mariupol's sprawling steel plant complex, one of the largest in Europe, currently housing both Ukrainian forces and civilians and seen as the fighters' last stand in the city.
Ukrainian forces in Mariupol on Wednesday issued a plea for more weapons and support from the West, warning that they were facing their final days, if not hours, in their fight to defend the city — but vowing to fight until the "last drop of blood."
Civilian evacuations have been underway from the city for weeks, with many failed attempts at establishing humanitarian corridors, though one was agreed Wednesday. Ukrainian negotiators have said that Kyiv would be willing to negotiate releasing Russian prisoners for safe passage of civilians.
Russian control of the strategically located city would help Moscow link Ukraine's occupied eastern territories in the Donbas with the Crimean peninsula, which it annexed in 2014.
— Natasha Turak
Russia may ramp up attacks ahead of May 9 Victory Day celebrations: U.K. ministry
Russia likely wants to be able to show "significant successes" ahead of its annual Victory Day celebration on May 9, the British defense ministry said in an intelligence update.
"This could affect how quickly and forcefully they attempt to conduct operations in the run-up to this date," the U.K. ministry said.
May 9 is of great national importance to Russia, as it marks the Soviet Union's triumph over Nazi Germany in World War II.
Russian forces are now advancing toward Kramatorsk, the capital of the Donbas region, which continues to suffer from rocket attacks, the ministry said. The Donbas is made up of the two pro-Russian self-declared "republics" of Luhansk and Donetsk.
"High levels of Russian air activity endure as Russia seeks to provide close air support to its offensive in eastern Ukraine, to suppress and destroy Ukrainian air defense capabilities," the ministry added.
— Chelsea Ong
Ukraine wants to cut off Russia's ability to finance war with oil and gas sales
Ukraine wants to cut Russia off from financing its military activities with oil revenues, Ukrainian President Volodymyr Zelenskyy said.
The plan is to restrict key sectors in Russia — including energy and banking, as well as export-import operations, transport, he said. "The next steps should include an oil embargo and a complete restriction on oil supplies from Russia," he said during his nightly video address.
Ukrainian and international experts are working to ensure that "Russia will lose the opportunity to finance the military machine," he added, saying details of the plan were published today.
"We are also working to ensure that all — I emphasize — all Russian officials who support this shameful war receive a logical sanctions response from the democratic world," the president said.
Zelenskyy highlighted his meeting with European Council President Charles Michel, who visited Kyiv on Wednesday.
The two leaders talked about how to address threats to food and energy security in Europe and globally. "Resuming exports of Ukrainian agricultural products and blocking Russia's ability to blackmail Europe with energy resources are top priorities for everyone on the continent," he added.
While pointing out that the EU was preparing a sixth package of sanctions, he emphasized that sanctions are not "an end in themselves," but a tool to motivate Russia to end the war.
Zelenskyy added that the situation in the east and south of Ukraine remains "as severe as possible" and that Russian forces are still trying for some victory through new large-scale offensives — "at least something they can 'feed' their propagandists with," he said.
Russia has been waging information warfare alongside its military operations. NBC News previously reported that Russians have been "fed a steady diet of propaganda" by Russian-state media.
— Chelsea Ong
Read CNBC's previous live coverage here:
UN asks Zelenskyy and Putin to meet to discuss end of war; U.S. lobs fresh round of Russia sanctions
Copyright CNBC