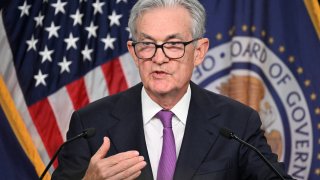 The Fed declined to hike rates.
IPOs aren't looking so hot.
The end of the writers strike might be near.
Here are the most important news items that investors need to start their trading day:
1. Market moves
Stocks fell Wednesday after the Federal Reserve indicated another rate hike could be on the horizon. Markets had already priced in the expected Fed decision on Wednesday, but investors were less sure about future rate hikes. The S&P 500 lost 0.94%, while the Dow Jones Industrial Average dropped a more modest 0.22%. The Nasdaq Composite slid 1.53%, weighed down by a drop of more than 2% in Microsoft and roughly 3% declines in Nvidia and Google-parent Alphabet. All three major indexes closed at session lows. Follow live market updates.
2. Fed projections
The Federal Reserve indicated that there could be one more rate hike in 2023. It held rates at their current level between 5.25% and 5.5%, the highest in about 22 years, after its two-day meeting that ended Wednesday. Fed Chair Jerome Powell said the central bank still needs to "see more progress" on inflation. Projections released in the Fed's dot-plot, which indicates what members are expecting for the future, showed the central bank could hike rates to 5.6% by the end of 2023. The rate-setting Federal Open Market Committee also projected two rate cuts in 2024, which is two fewer than it forecast in June.
3. Trading apps
Apple wanted to capitalize on the buzz when consumers were flocking to trading apps like Robinhood in 2020. It was working with Goldman Sachs on an investing feature that would let consumers buy and sell stocks and planned to launch it in 2022, CNBC's Kate Rooney and Hugh Son reported. They abandoned the effort when the markets turned downward and as interest rates rose. People familiar with the discussions said Apple was worried that it would face backlash if people lost money in the stock market while using an Apple product and put the project on pause.
4. IP-doze
IPOs are back. Arm, Instacart and Klaviyo all went within the span of roughly a week, with Klaviyo debuting on the New York Stock Exchange on Wednesday. It jumped 9% in its initial public offering. But it's hard to tell how long the buzz will last. Instacart shares fell nearly 11% in their second day of trading Wednesday, continuing a slide that began immediately after the stock's debut on Tuesday and left it narrowly above its initial public offering price. Arm is also back near its stock debut price. After rallying about 25% on the company's first day of trade last week, its stock is nearly back down to the $51 per share it debuted at.
5. End in sight?
Could the end of the writers' strike be near? After meeting face-to-face, writers and producers are close to an agreement to end the Writers Guild of America strike, according to people familiar with the matter. Sources said the WGA and the Alliance of Motion Picture and Television Producers hope to finalize a deal on Thursday. This appears to be the closest the two sides have come to resolving the strike more than 11,000 film and TV writers began on May 2, leaving the Hollywood production of TV shows and movies at a standstill.
Disclosure: Comcast is the parent company of NBCUniversal and CNBC. NBCUniversal is a member of the Alliance of Motion Picture and Television Producers.
— CNBC's Alex Harring, Jesse Pound, Jeff Cox, Yun Li, Kate Rooney, Hugh Son, Ari Levy, Lillian Rizzo and David Faber contributed to this report.
— Follow broader market action like a pro on CNBC Pro.
Copyright CNBC