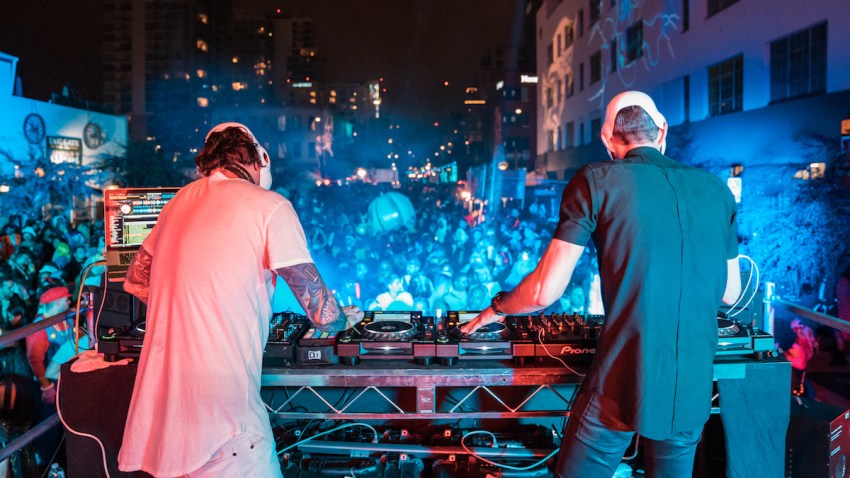 Get ready to get wicked, San Diego -- on Saturday, Oct. 27, from 6 p.m. to midnight, Wckd Village will be taking over six blocks in the East Village. That means downtown is about to turn up and turn into San Diego's largest Halloween music festival with more than 10,000 attendees expected to pour in from all over the country.
Cheat Codes, Michael Calfan, Young Bombs, Sinden, Cheyenne Giles, Erik Diaz, Fomo, Murphy Kennedy, Will Hernandez, Aidin, DJ Byrd and DJ C-Riz have all been announced as performers on the festival's four performance stages/immersive worlds.
Here's a breakdown of what to expect at each stage.
The Village Crypt main stage brings unimaginable creatures to life with performances by LA-based EDM trio Cheat Codes, Selena Gomez and Post Malone commissioned remixers Young Bombs and grave to ravers Fomo.
Wckd Woodlands surrounds you in an ominous forest landscape and a haunted hookah hideaway lounge with Michael Calfan, Sinden and Erik Diaz providing some spooky house beats.
The Demented Circus makes the perfect dark funhouse with a specialty cocktail sideshow bar, the Madhouse's neon body art bar, stilt walkers, fire breathers and more. Cheyenne Giles, Murphy Kennedy, Will Hernandez and DJ Byrd are all slated to perform here.
The Deck of Fate VIP is for those lucky guests who are willing to pay the $90 extra (through Sept. 14). Think of this like a local stage with EDM and open format sounds by San Diego DJs Aidin, Byrd and C-Riz! Here, you'll get to immerse yourself in tarot cards, fortune tellings, palm readings, gypsy lounges and free drinks (the Seven Deadly Drinks, to be exact: four drinks at any bar inside Wckd Village and three drinks at participating Gaslamp Quarter and East Village venues). Plus, you get a charging station, upgraded restrooms and $1 off drinks at the VIP bar!
Even I'm enticed. General admission will cost you $35 through Sept. 14. That ticket will give you access to the first three stages, free photo booths, some Wckd drink specials and no cover at more than 25 venues in the East Village and Gaslamp.
Premium tickets start at $50 through Sept. 14 and include all of that plus express entry, two complimentary Wckd cocktails, designated restrooms, tarot readings and more.
For more info, head to the Wckd website, and start thinking about your Halloween costume (as if you haven't had it planned since last year).
Rutger Ansley Rosenborg has been an Associate Editor at NBC SoundDiego since 2016. Find out more here, or contact him here.