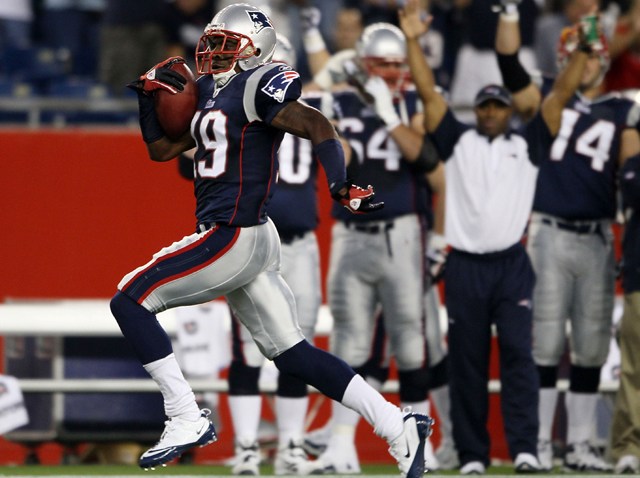 When asked about Brandon Tate, the first sound to escape Ron Rivera's mouth is a long, soft sigh.
The second-year Patriots wide receiver can have that effect on defensive coordinators. Special teams coaches, too.
At least one big catch or long return has critically inflicted the Chargers in all their losses this season. On Sunday, they will face Tate, a player fully capable of both.
Rivera completed his exhale and began.
"Well," Rivera said, "he's going to be the guy that's going to run the routes that Randy Moss used to, and so we have to be very aware of where he is in terms of his alignments. We have to be very aware of the situation as well. Third and very long, he's the guy running through the zone."
Moss, who was traded to the Vikings four games into the season, was the vertical threat in New England since 2007.
Last week, in the team's first game without him, Tate was targeted four times but had no catches. He still made an impact, nearly scoring on a 22-yard end-around that set up a touchdown.
In a Wednesday conference call, quarterback Tom Brady said he isn't about to shy away from who is now his top downfield weapon.
"I'd always like to get Brandon the ball more," Brady said. "When he gets the ball in his hands he's very dangerous. You see what he does on kickoff returns."
Brady then described Tate with a word that would later be echoed by Chargers coach Norv Turner: explosive.
Tate is averaging 32.6 yards per kick return, second highest in the NFL. The only player who's been better is Seattle's Leon Washington, who the Chargers allowed to return two kickoff returns for touchdowns in a Week 3 loss.
Through the addition of starters and free agents such as Quinton Teal, San Diego's kickoff unit has improved dramatcially since then. But Tate will be its greatest test.
By now, tape of his eye-opening 97-yard and 103-yard returns this season have been scrutinized inside Chargers Park, as has his 97-yard return from the preseason.
"He's awfully explosive as a returner," Turner said. "He was a great returner in college. He's already established himself as an outstanding returner in this league. And he's a pure speed guy. When he's on the field, you've got to know where he's at."
Otherwise, Rivera's sighs will get a little longer, and a lot less softer.