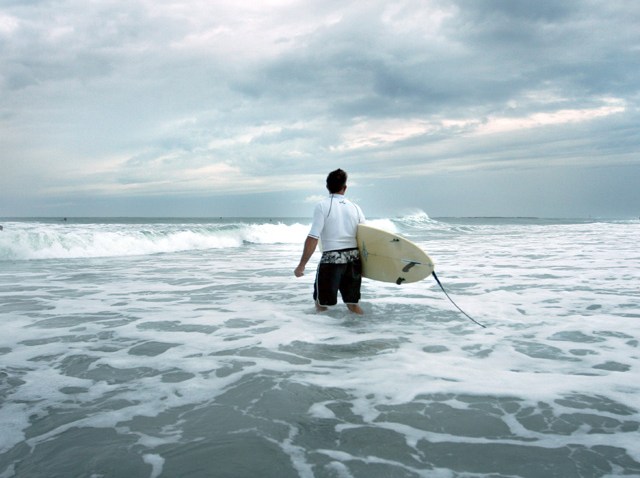 Temperatures have dipped quite a bit since the middle of the week.
"It's been horrible. It's been really cold," said Erez Atava who has owned beach businesses for 20 years. "I think the weather has a major effect on business."
Atava says he's seen a big drop in people this summer.
"I mean, I'm not used to seeing the parking lot across the street so empty at 11 or 12 o'clock. Normally it's packed at 8 a.m. But the Arizona customers, they're happy."
He was right.
"It was 105 yesterday, so 70 is alright," said Phoenix resident Jeff Young who was in town for the weekend.
But…
"We weren't expecting it to be quite this cold," Young said. "It's August… sunshine would be nice."
The Vegas customers were also cashing in on the cool weather.
"I love it. Living in Vegas it's really hot. So, it's nice to get away from the heat," said Nicole Moore.
But…
"Definitely not what you would expect," she said.
She's right.
This month the average daily high is 71 degrees. Compare that with the average August temperature, 78 degrees, and we're six degrees below average. In June we were almost five below average.
This contradicts predictions by the National Weather service at the beginning of summer, which said San Diego would see above normal temperatures.
Normally in an El Niño year, sea surface temperatures rise off the west coast of the U.S. But this summer was a little different. The National Weather service blames northerly winds that caused upwelling along the coast, bringing much cooler sea surface temperatures which has some influence on the cooler air temperatures.
The locals have mixed feelings on the summer fizzle.
"Kind of disappointing in a way because you wait all winter for summer to come and then it doesn't come. However, it hasn't been as hot and we haven't had to put the air conditioner on and that's been nice," said Chip Willis from Tierrasanta.
But before you reach for your fall closet, the mercury is set to rise once again.
"The upper level low that is causing the change will move across the state through tomorrow then move out quickly Monday with warmer temperatures and more sunshine by Tuesday," said forecaster Whitney Southwick.
If you were planning on going to the beach this weekend, don't expect much sunshine.
"Clouds are more than a half mile thick near the coast so don't expect much if any clearing the next couple of days; not with the persistent on-shore flow that is taking place," Southwick said.
Beach highs will likely be low to mid 60s with a fairly cool breeze. If it's sunshine you crave, you may want to head east.
"The mountains and deserts should be mostly sunny with periods of some high clouds at times and very pleasant temperatures," Southwick said.
The warmest valleys could see temperatures in the 80s, but forecasters are only expecting a 76 in El Cajon.
"Mountain highs will settle in around 73 and Borrego Springs should top out at 99 which will make it the coolest day out there in about a month," Southwick said.
Things should warm up pretty quickly Monday and by Tuesday we should be back into the mid 70s near the coast and mid to upper 80s inland.
"Another trough could develop bringing cooler temperatures again next weekend," Southwick said.
Let us know what you think. Comment below, send us your thoughts via Twitter @nbcsandiego or add your comment to our Facebook page.