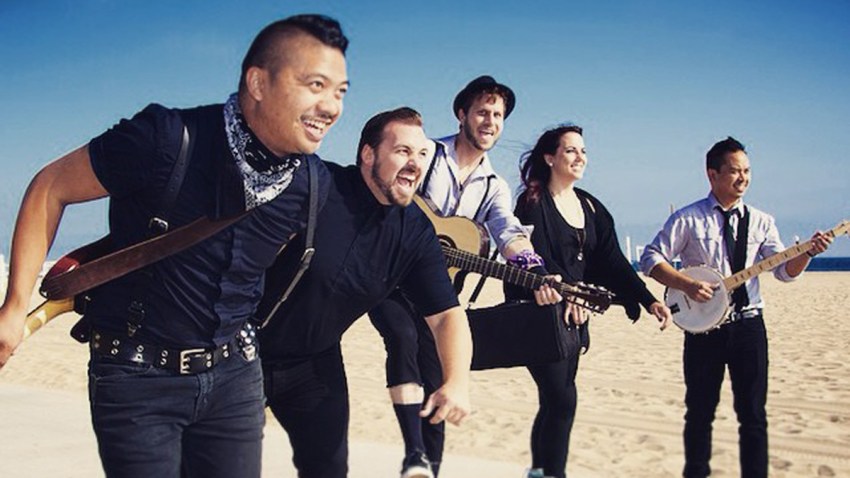 There are a ton of really amazing shows happening all over town on Friday, but nothing would please us more than your presence at another installment of SoundDiego LIVE. We're taking it to University Heights this month -- at Park & Rec, to be exact -- the guest list closed at 5 p.m. but you are still welcome at the party; you just can't get in on the happy hour goodness. The night's opening act, the Bassics, just took home Best New Artist at the San Diego Music Awards, 9 Theory is a long-time SD favorite, and Quel Bordel! just might be the best party band in town. Come see for yourself and spend the night with us. If you're not quite 21, check out Gardens & Villa at the Irenic, or Aer and Cody Simpson at The Observatory.
Friday, Oct. 9:
SoundDiego LIVE, featuring Quel Bordel!, 9 Theory, The Bassics @ Park & Rec -- the guest list closed at 5 p.m. but you are still welcome at the party; you just can't get in on the happy hour goodness.
OB Oktoberfest, featuring Through the Roots, Electric Waste Band, AJ Froman, Sandollar @ Newport St (4:20-11 p.m.)
Oktoberfest @ German American Societies (1017 S Mollison, El Cajon, 4-10 p.m.)
Gardens and Villa, James Supercave @ The Irenic
Telekinesis, Say Hi, Illuminauts @ Casbah
The Redwoods Music Revue, with Creature and the Woods, Rebecca Jade & the Cold Fact, the Midnight Pine, Birdy Bardot @ Music Box
Aer, Cody Simpson, Chef'Special @ Observatory North Park
The Palace Ballroom, the Loons, Saint Diego @ The Merrow
Cannibal Ox, Liam Tracy, Parker and the Numberman @ Soda Bar
The Cardielles, Doc Hammer @ Black Cat
The Montalban Quintet @ Bar Pink
Candelaria, Bang Data, Cumbia Machin, Viejo Lowbo @ Ken Club
Atomic Groove Pink & Fit Happy Hour @ Belly Up (5 p.m.)
Beth Hart, Matt Andersen @ Belly Up (sold out)
Musica en La Plaza @ California Center for the Arts, Escondido
Podunk Nowhere, Rodney Hubbard @ The Balboa
The Benedetti Trio Celebrate John Lennon's Birthday @ Dizzy's
K Camp, Justine Skye, Diggy Simmons, Twayne, Elijah Blake, Jacquees, Anthony Lewis @ Viejas Arena
Gabriel Iglesias @ Valley View Casino Center
Survay Says!, the Promise Hero, Old News, Watashi Wa Dance Party @ Che Cafe
Hell on Heels Burlesque Productions Presents Ole! Ole! Ole! feat Jason Hanna & The Bullfighters @ Brick By Brick
Jesse Cook @ Humphreys Concerts By the Bay
The Amity Affliction, Chelsea Grin, Secrets, Cruel Hand, the Plot in You @ Soma
Caspian, Circle Takes the Square @ The Hideout
Jamey Johnson, Chris Hennessee @ House of Blues
God Module @ The Bancroft
David Patrone Quartet @ Croce's Park West
Pop Vinyl @ Humphreys Backstage Live
Psydecar @ Winston's
Conflict, Total Chaos, Evacuate, Sculpins @ Til-Two Club
Them Are Us Too, Drab Majesty, Nylon Apartments, DJ Mario Orduno @ Whistle Stop
TJR @ Fluxx
Goldroom @ Bang Bang
Cedric Gervais @ Omnia
DJ E Rock @ Parq
Junior theDISCOpunk @ Henry's Pub
Chet & the Committee @ Tio Leo's
Junglist Fridays @ Kava Lounge
Joe Nichols @ Sycuan
Kahi Lofa Noise Makers, DJ Chelu @ Gallagher's Irish Pub
Groovesession & Sister Speak @ 710 Beach Club
Cleric, Halo Varga, Bruno de Mata, Paulo, Michi, John Kaberna, Louiv @ Spin
Rosemary Bystrak is the publicist for the Casbah and writes about the San Diego music scene, events and general musings about life in San Diego on San Diego: Dialed In. Follow her updates on Twitter or contact her directly.