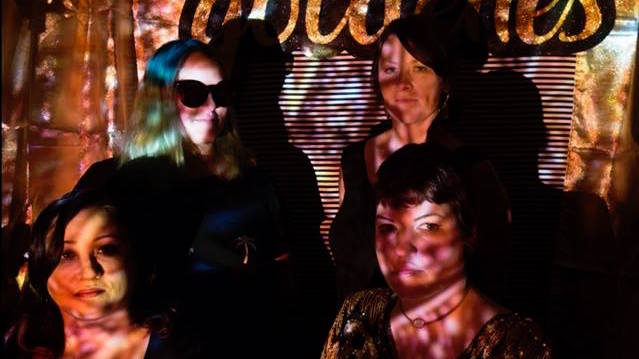 There are some really fun events planned to keep you busy this weekend. For the 21+ set, get to the
Casbah
for another Vinyl Junkies Record Swap with music, food and thousands of records for perusal and purchase. Around town, PB Beachfest is on at Crystal Pier, IB hosts Symphony by the Sea, La Jolla Art & Wine Fest is in the Village and, of course, your choice of Oktoberfest options. What is really worth celebrating, however, is the 15th anniversary of Krakatoa. The little coffee shop has been in the heart of Golden Hill for a decade and a half, and it could be considered a forebear of all the growth in that neighborhood. With live music all day (and free stuff, too), grab your bike and hang out in Golden Hill all day with the Colour Monday, Nicey Nice World and our buds the Goldettes, among others. At night, Japanese punk legends Shonen Knife return to the
Casbah
, the B-52's get weird at Humphreys and up and comers Fayuca play House of Blues Voodoo Room.
Saturday, Oct. 6:
Vinyl Junkies Record Swap @ Casbah (11 a.m.-5 p.m.)
Krakatoa 15 Year Anniversary Bash featuring Goldettes, the Colour Monday, Nicey Nice World, the In-Itself, Duo 442, DJ Bucky @ Krakatoa (12-8 p.m., free, all ages)
Symphony by the Sea featuring SDSU School of Music and Dance @ Pier Plaza, Imperial Beach (6:30-9:30 p.m.)
Oktoberfest @ German American Societies, El Cajon
Pacific Beachfest 2018 @ Crystal Pier (11 a.m.-7 p.m.)
La Jolla Art & Wine Festival @ La Jolla Village (10 a.m.-6 p.m., free)
AleSchmidt Oktoberfest Celebration featuring Gordon Kohl Band @ AleSmith (11 a.m.-11 p.m.)
Shonen Knife, the Touchies, Creepseed @ Casbah
The B-52s, Pinky Pinky @ Humphreys Concerts by the Bay
Joe Jack Talcum (of Dead Milkmen), Coolzey, Year of the Dead Bird @ Bar Pink (8 p.m.)
Fayuca, Of Good Nature @ Voodoo Room, House of Blues
Blinkfest (Blink 182 covers), Bleed American (Jimmy Eat World covers), Pop-Punk Mayhem (pop-punk covers), Through Being Cool DJs @ Soda Bar
Silent, the Color Forty Nine @ Moustache Bar, TJ
San Diego Alto Sax Summit II @ Dizzy's
San Diego Freakout presents Chyurch with Mikey and Andrew @ Bar Pink (10 p.m.)
Henry Diltz: Listening Through the Lens @ Museum of Making Music
Grampadrew's Flim Flam Revue @ Whistle Stop (5 p.m.)
Red October Celebration featuring Teachers With Guns, Revolutionary Guard, the Gay Agenda @ Che Cafe Collective
Keller Williams @ Belly Up
The Charlie Arbelaez Quartet @ Seven Grand
Ghost Dance, Midnight Track, Agent 86, Delma @ Ken Club
'80s vs. '90s Dance Party with DJs Saul Q & Gabe Vega @ Whistle Stop
Bullets and Octane, the Focke Wolves, Dusty Mitchell @ Space
Tron Party with Aaron Wallace, Josex, Dave Parley of Prayers @ Blonde
Trains Across the Sea, Al Howard, Lizabeth Yandel, Rigby Sayer @ Lestat's
West Coast Oktoberfest: the Pursuit of Hoppiness @ Music Box
Parade of Horribles, Nopes, Corporate Citizens @ Pour House (9 p.m.)
The Nightengayles @ Pour House (5 p.m.)
Levitt Amp Music Series with Alice Wallace @ California Center for the Arts, Escondido
Lucia Micarelli @ California Center for the Arts, Escondido
Saving the State, Emerald Bay, We Are One, Suburban Park, E.V.E., Ending Left @ Soma
Banshee in the Kitchen @ Pilgrim United Church of Christ
Get the Led Out @ The Events Center, Harrah's SoCal Resort
Downs Family, Dirty Pennies, the Heart Beat Trail @ Black Cat Bar
Afrolicious, Sure Fire Soul Ensemble @ Winston's (9:30 p.m.)
Polux, the Aires, Little Heroine @ Title TK
Los Tucanes De Tijuana @ House of Blues
Joanne Baduria and Soul Fire @ Martini's Above Fourth
Hey Chels, GPB, Coyote Bred @ Tower Bar
Roman Watchdogs, Sideshow, Fatal Inertia, Critical Me, With Feeling, Toxic on Repeat @ Bancroft Bar
East Village Oktoberfest @ Quartyard
Brodie Stewart @ Moonshine Beach
Canaan Cox @ Moonshine Flats
Blue Jean Simmons @ Winston's (2 p.m.)
Metal Thunder Entertainment presents Cloven Hoof, Void Vator, Call of the Wild @ Til-Two Club
Graham Bonnet Band, 222, Battlefront, Killing Tyranny, Graveyard Witch @ Brick by Brick
Electric Elms @ Midnight Jack
The San Diego Golden Girls @ The Merrow (6:30 p.m.)
Bear Night San Diego @ The Merrow
Coastal King Conquerors @ City Pub
Strictly Business with DJs Edroc & KanyeAsada @ The Office
Jordan T, KL Noise Makerz @ 710 Beach Club
Kingdom Come: 30 Year Anniversary Tour, BigToothComb, ElectroMagnetic, Taz Taylor @ Ramona Mainstage
Alan Iglesias & Crossfire @ Tio Leo's
Rising Star @ Humphreys Backstage Live (9 p.m.)
Lucent with Binary Finary: US Trance Classics Tour @ Spin
Copycat Killers @ Navajo Live
CID @ Bang Bang
Coast Club @ Omnia
Ascension with DJs Robin Roth, Severin, Fn1 @ Kava Lounge
Rockstar Saturdays @ Henry's
Rosemary Bystrak is the publicist for the Casbah and writes about the San Diego music scene, events and general musings about life in San Diego on San Diego: Dialed In. Follow her updates on Twitter or contact her directly.