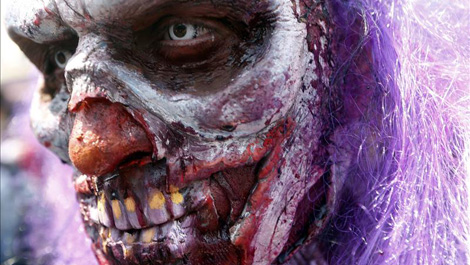 Let's face it: You either love Halloween and have been putting together a costume since spring, or you despise Halloween and are trying to find ways to just be a shut in for the night. I'm here to tell you that if you are the former, there are a ton of events for you and your sexy costume all over town, including Monster Bash in the Gaslamp, the Heaven & Hell Music Festival at the Town & Country, and the Masquerade Ball at the Lafayette, to name just a few. But if you feel like this is just another Saturday night, legends Kris Kristofferson and John Prine are playing the San Diego Civic Theatre together, Gone Baby Gone will be at the Ken Club, and Jake Shimabukuro closes this year's concerts at Humphreys. Please note, the No Knife show at the Casbah is sold out, and the Rocket From the Crypt show at Bar Pink was canceled -- though the Heartaches will still perform.
Saturday, Oct.31:
Rocket From the Crypt (Canceled), the Heartaches, DJ Old Man Johnson @ Bar Pink
No Knife, the Dabbers, Ghetto Blaster @ Casbah (sold out)
Kris Kristofferson & John Prine @ San Diego Civic Theatre
Soja, J Boog, Dustin Thomas @ Observatory North Park
Gone Baby Gone, the End, the Fictitious Dishes, the Dirty Pennies @ Ken Club
Halloween Spooktacular Tribute Night: Nine Inch Nails (Roxy Jones), Shocking Blue (Wild Wild Wets), Talking Heads (Hills Like Elephants), the Jesus & Mary Chain (Sleeping Ghost) @ Soda Bar
Halloween Heat, '80s Heat and Nancarrow @ Belly Up
For Today, Fit for a King, Gideon, Silent Planet, Phinehas @ SOMA
95/7 Throwback Thrilla Halloween with Warren G @ Music Box
Monster Bash @ Gaslamp Quarter
Dia de los Muertos Celebration @ Sherman Heights Community Center (10 a.m. to 6 p.m.)
Dia de los Muertos @ Old Town
Halloween with Deadbolt @ Black Cat
Moon Boots, Doorly @ Casa del Prado Theatre
Jake Shimabukuro @ Humphreys Concerts By the Bay
The Major Minus, Nite Lapse, the Wild Fires @ The Balboa
Halloween Block Party 2015 @ House of Blues
Heaven & Hell Halloween Music Festival 2015, featuring Passion Pit, Porter Robinson, Hotel Garuda @ Town & Country Event Center
Night of the Shred, featuring Shrine, Windhand, Bang, Elder, Danava, Wo Fat, Monolord, Black Bombaim @ Brick By Brick
Taches @ Bang Bang
Booty Bassment with DJs Dmitri & Rob Moran @ Whistle Stop
Monster Mash @ The Merrow
Diana Death Halloween Happy Hour @ Whistle Stop (5 p.m.)
Pier Pressure SD Halloween: 4th Annual Titanic Masquerade 2015 @ Inspiration Yacht
The Massaquerade Ball @ Lafayette Hotel
Misfiends @ The Bancroft
Haunted W San Diego Halloween, with Richard Vission 2015 @ W Hotel Rooftop
Hank Easton @ Croce's Park West (12 p.m.)
Sue Palmer @ Croce's Park West (6 p.m.)
In-a-Fect @ Humphreys Backstage Live (9 p.m.)
The Burdens, Wang Dang Daddies @ Tower Bar
The Experiments @ Winston's (6-9 p.m.)
Ocean Boogie @ Winston's
The Signal, the Mochilero All Stars @ Til-Two Club
Mihkal, Nico Luminous, Henry Pope, Datphat, Galangsta, Stoik, Bedr808m, Peewhee, B Dash Rad, Soultron, Nick@Nite @ Spin
Too $hort @ Fluxx
DJ Vice @ Omnia
Alien Vampire Halloween @ Kava Lounge
The Hollywood Stones @ Tio Leo's
DJ Chelu @ Gallagher's Irish Pub
Dazed & Confused @ 710 Beach Club
Loudness, Bitch, Sinners Rage, Alchemy @ Ramona Mainstage
Rosemary Bystrak is the publicist for the Casbah and writes about the San Diego music scene, events and general musings about life in San Diego on San Diego: Dialed In. Follow her updates on Twitter or contact her directly.