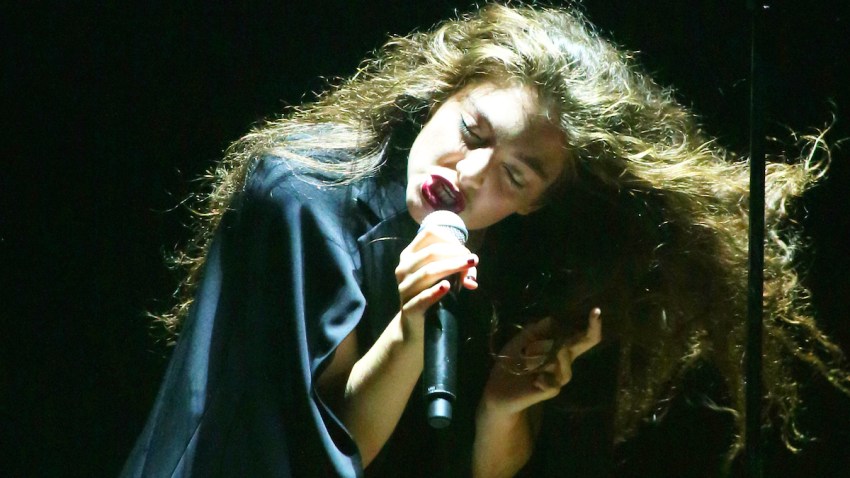 There are some pretty great shows in town on Friday, including a sold-out appearance by Dawes at the Casbah. The L.A. band came out strong with their debut, then a critically acclaimed follow-up, and there's no doubt they could've played somewhere bigger but opted for a small club show. Meanwhile, the Open Air Theatre hosts Lorde, who you might have heard made a huge splash with her debut. Be sure to get there early for Majical Cloudz, who just might blow you away. The Hideout hosts Tacocat, Drowners appear at Soda Bar, and the Soul Club gets down and gets you dancing at the Whistle Stop.
Friday, Oct. 10:
Dawes, Henry Wolfe @ Casbah (sold out)
Lorde, Majical Cloudz @ Open Air Theatre
Casbah presents Tacocat, Colleen Green @ The Hideout
Casbah presents Drowners, Dictator, Roxy Jones @ Soda Bar
San Diego City Soul Club presents the Delirians, Seectors, King Dutty & Emmy Earthquake @ Whistle Stop
La Santa Cecilia @ California Center for the Arts, Escondido
Behind the Wagon @ Bar Pink
The Applebrown Jazz Ensemble (CD release) @ Dizzy's
Passafire, the Expanders (8:30 p.m.); Atomic Groove (5 p.m.) @ Belly Up
Steph Johnson Trio @ Croce's Park West
Billy Shaddox @ Lestat's
Daniel Crawford @ Sycamore Den
Andrew Kroma, AxKan, Engineer, MaxBetta, Gears @ Kava Lounge
Super Buffet @ The Merrow
The Devastators, Twisted Relatives (night show); Ryan Hiller (5 p.m.) @ 710 Beach Club
Kill the Noise, Milo and Otis, Ape Drums @ Fluxx
Noize Makerz, Kahi Lofa, DJ Lya @ Gallagher's Irish Pub
Wakey! Wakey! with Ben Fields and Luke Wesley @ House of Blues
Michele Lundeen, Caliber @ Humphrey's Backstage Live
The Joshua White Quintet @ The Loft
Habibi @ Porter's Pub
The Reka Parker, Paul Seaforth Quartet @ 98 Bottles
No Fraud, Whiskey & Knives, Facelift @ The Tower Bar
Soul Clap, Lee K @ Bang Bang
Cool Runnings, Clean Room @ Til Two Club
Midnight Eagle, Nuclear Tomorrow, Purely Demented @ The Tin Can
Bedbreakers & Sleepwalkers @ Tio Leo's Lounge
DJ Fishfonics @ U31
Marlon Asher, King Schascha, Layne Tadesse, Danny Dread @ Winston's
DJ Ideal @ Spin Nightclub
DJ Savi @ Bassmnt
Rosemary Bystrak is the publicist for the Casbah and The North Park Theatre, and writes about the San Diego music scene, events and general musings about life in San Diego on San Diego: Dialed In. Follow her updates on Twitter or contact her directly.