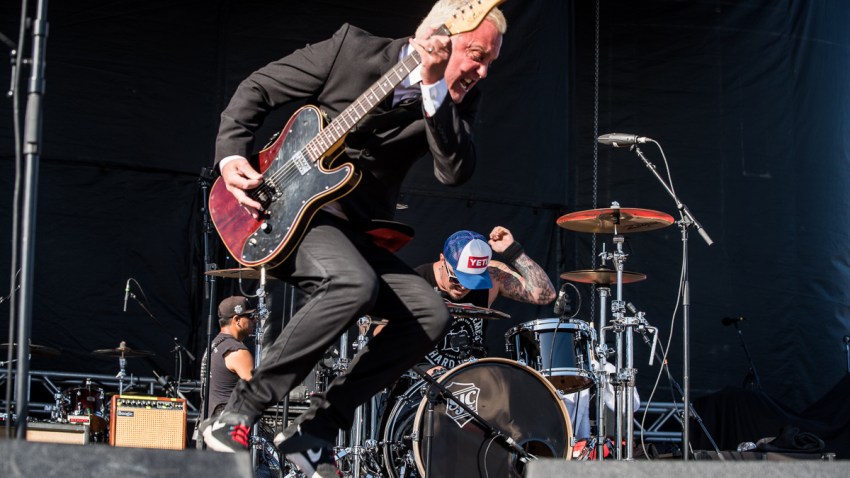 I have a friend who has been posting flyers and photos from dozens, if not hundreds, of shows he went to from high school. Seeing them inspired me to dig through photos of my own, but mine are all mostly terrible and random people I don't know or remember. But I did come across a stash of pictures from the time I went on a mini-tour with Goldfinger. My friend was their tech, and so it was that I got to tag along their Southern California shows, and at one point, I even drove half the band to San Bernardino. Those were super fun times, and 20-plus years later, I'm impressed that those guys are still going strong. Tonight, you can catch them with our own homegrown legends, Buck-O-Nine at House of Blues. Around town, Cafe Tacvba plays the track, Evanescence play the Amp, or you can get a buffet sampler of the '80s at Humphreys Concerts by the Bay. Tonight, don't be alarmed if your house starts shaking as the first night of the Tchaikovsky Spectacular at the Embarcadero kicks off.
Friday, Aug. 31:
Goldfinger, Buck-O-Nine, the Suicide Machines, Suburban Legends @ House of Blues
Cafe Tacvba @ Del Mar Racetrack
Evanescence, Lindsey Stirling @ Mattress Firm Amphitheatre
Lost '80s Live ft. A Flock of Seagulls, Wang Chung, Bow Wow Wow, Missing Persons, Naked Eyes, Animotion, Gene Loves Jezebel, Boys Don't Cry, Farrington & Mann, Dramarama @ Humphreys Concerts by the Bay
Black Friday ft. DJs Vaughn Avakian, Mario Orduno, Camila Robina, Bidi Cobra, Jon Blaj, Quali @ Casbah
The Loons, the Heartaches, Teazed @ The Che Cafe
Black Uhuru, the Originators @ Belly Up
Koffin Kats, Systematic Abuse, the Cat Chasers @ Soda Bar
1812 Tchaikovsky Spectacular @ Embarcadero Marina Park South
Swing Dancing Finale: Zzymzzy Sextet @ California Center For The Arts Escondido
Christopher Hollyday's "Telepathy" CD Release @ Dizzy's
Dance Punk! Indie x Blog Haus x Electro @ Blonde
Fang, Authentic Sellout, Billyclub, Revolt-Chix, Filner Headlock @ Ken Club
Modern Day Moonshine, Fresh Veggie Brass, Jefferson Jay @ Winston's
Fishing for Chips, Midnight Block, Neurotic Mirage, Smarter Than Robots, Ready Set Survive, Lineup Rookie @ SOMA
Low and Be Told, Shoot the Glass @ Bar Pink (8 p.m.)
DJ Mike Turi @ Bar Pink (10 p.m.)
Ypsitucky @ Panama 66
Voices & Vibrations @ Space
Collie Buddz, New Leaf @ Music Box
Vigil and Thieves @ City Pub
Giuliana, Sisster, Carlos Se @ Manhattan Bar
True Stories @ Lestat's
Skull Drug, Terminally Ill, Surface Report, Sculpins @ Tower Bar
Meadow, Belladon, AJ Froman @ Black Cat Bar
Chris Shrader @ Moonshine Beach
Martin McDaniel @ Moonshine Flats
Cyan Rising @ De Oro Mine Co
Dylan Gardner @ Voodoo Room, House of Blues
Nowhereland, Bosswitch, Joan and the Rivers @ Midnight Jack
The Oxen, Red Wizard @ Pour House
The Nightengayles @ Pour House (5 p.m.)
Trick: On the DL with Victor Rodriguez @ The Merrow
Smomid, Poor @ Bancroft Bar
The Debonaires, Mochilero All-Stars, DJ Non-Profit @ 710 Beach Club
Janice & Nathan @ Martini's Above Fourth
The Atta Boys, Alex Sharps & Nate Copeland, Leah Keane @ Ramona Mainstage
Cool Party Bro ft Heminguey & Ikah Love @ The Office
Live Acoustic Sessions @ U-31 (7:30-9:30 p.m.)
DJ Junior theDISCOpunk @ U-31
Ass Pocket Whiskey Fellas, the Bayou Brothers @ Tio Leo's
Beta Maxx @ Humphreys Backstage Live (9 p.m.)
Asteroids, Blaze of Jovi @ Navajo Live
Bump with DJs Dazzla, Shige, the Andres Affair and guests @ El Dorado
FNGRS CRSSD ft. Fisher, Harvard Bass @ Spin
Catch + Release ft. Fisher, Omnom @ Float, Hard Rock Hotel (3-9 p.m.)
Hotel Garuda @ Bang Bang
DJ Bar1ne @ FLUXX
E-Rock @ Oxford Social Club, Pendry
D.C. & Friends: Labor of Love @ Kava Lounge
Rosemary Bystrak is the publicist for the Casbah and writes about the San Diego music scene, events and general musings about life in San Diego on San Diego: Dialed In. Follow her updates on Twitter or contact her directly.