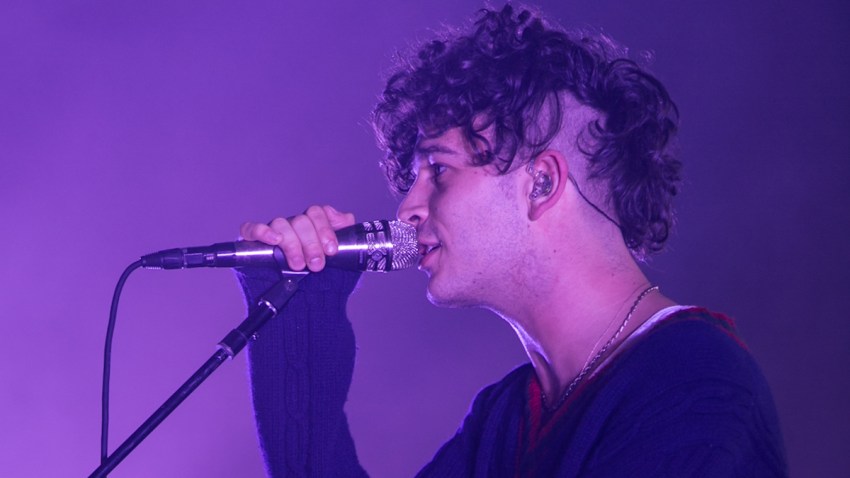 Everybody has different standards and ideas of what it means for a band to have "made it." Various stages of success are standard...national club tour, selling out larger rooms, playing theaters, being invited to festivals, getting radio airplay are all some markers. But one I always think is when other bands categorize their music as sounding like yours. These days, if a band "sounds like the 1975," you probably want to check them out, but if you're lucky, you can actually see the 1975 tonight at SDSU's Open Air Theatre. Meanwhile, the Belly Up hosts a second night with Jamtown, the Fresh Brunettes bring girl power to the Casbah, and experimental music collective Wrekmeister Harmonies plays at Space. If you're feeling a little bit country, the Stagecoach preview hits the Observatory with Jamey Johnson, Margo Price, and Brent Cobb.
Tuesday, April 25:
The 1975 @ Cal Coast Credit Union Open Air Theatre at SDSU
Jamtown (Cisco Adler, Donavon Frankenreiter, and G. Love) @ Belly Up
The Fresh Brunettes, Sights and Sages, Stray Monroe @ Casbah
Wrekmeister Harmonies, ANA @ Space
Jamey Johnson, Margo Price, Brent Cobb @ The Observatory North Park
Kawehi, Zoya @ Soda Bar
Livingmore, Nite Lapse, Bird Bath & Los Shadows @ Blonde
Tiki Tuesday feat. DJ Marshall Islands @ Bar Pink
The Candelights, Martian Cult, Imagery Machine, Grim Slippers @ The Merrow
Reggae Tuesdaze with the Tape Heads @ The Holding Company 1502
Thollem, Helixhand, Dead Lion @ San Diego Art Institute
Lyrical Exchange @ Queen Bee's
Karaoke @ The Bancroft
Open Mic @ Brick 15
"The Full Monty" @ SDSU Musical Theater
True Bass Presents: Ramsey #Trapped @ The Office
Robin Henkel @ Crossroads, House of Blues (FREE)
Mercedes Moore @ Humphreys Backstage Live
DJ Lexicon Devil @ Pour House Oceanside
Lauren Leigh and Sam @ Tin Roof
Asphyx @ Brick By Brick
Electricity @ U-31
Karaoke @ Riviera Supper Club
"Meeting of the Meyends" with Casmalia, Pleasuremaker, Will Lavin, Huggapuppy @ Winston's (9:30 p.m.)
Sue Palmer, Suesday Swing Night @ Tio Leo's
Videodrome @ Whistle Stop
Karaoke @ Riviera Supper Club
'50s/'60s Dance Party @ Henry's Pub
Symphonic Frequencies @ Kava Lounge
Electric Mud @ 710 Beach Club
Rosemary Bystrak is the publicist for the Casbah and writes about the San Diego music scene, events and general musings about life in San Diego on San Diego: Dialed In. Follow her updates on Twitter or contact her directly.