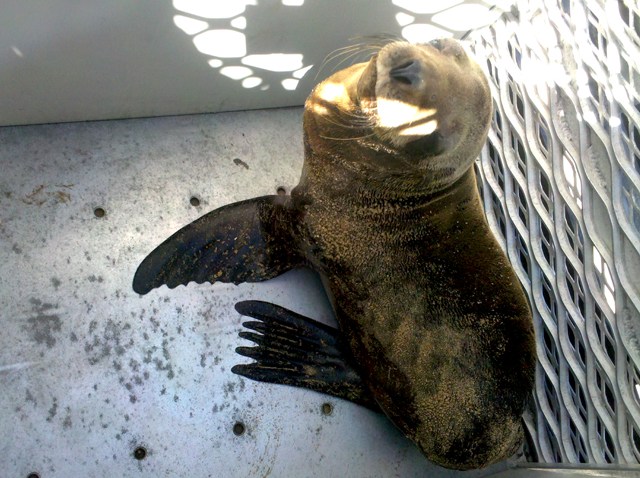 A Sea lion that grabbed headlines after being impaled with a hook is back in the wild.
A crew from SeaWorld released the rehabilated 450-pound sea lion about a dozen miles outside San Diego Bay. The caregivers' goal was to keep the marine mammal from returning to Silver Gate Yacht Club, where he was found two weeks ago, impaled with a fisherman's gaff hook.
"You know, he's a terror," said commercial fisher Trina Morris.
The injured sea lion has come to be known affectionately as Oscar. Commercial fishermen at a local marina know the sea lion by a distinctive feature.
"Oh, one eye -- that's how you know," Morris said.
It's unclear what injured that eye. What we have seen of Oscar is that he isn't willing to give up easily. An NBC camera caught him on tape as he fought off a team of SeaWorld workers and a net when they tried to rescue him.
Despite giving crews the slip several times, Oscar's wound and infection were ultimately too much for him.
"He was down and out, he was uncomfortable, he was also getting sick," said SeaWorld veterinarian Henrik Nollens. "He was dehydrated. He was septic."
Luckily, the hook didn't hit Oscar's vital organs. He was 30 pounds underweight, though, when he was finally captured. Vets treated his injuries and fed him about 20 pounds of fish a day. They quickly noticed progress.
"This is the goal -- to return the animal back to the wild," said SeaWorld animal care specialist Kevin Robinson on Thursday. "They've got a second chance at life now."
That life may go back to the way it was very soon, both for commercial fishing crews at the marina and their headline-grabbing neighbor who often hung out to feed on their scraps.
By the time crews captured Oscar, the hook had finally fallen off. It's unclear how that happened and how he became impaled in the first place.