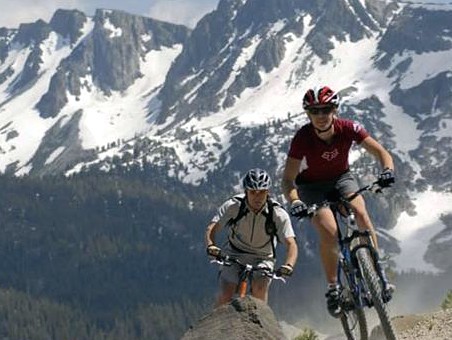 Your job: Decide to get out of town and fast. Our job: Help you find where you're headed. This week, Worth the Drive takes us to...
Mammoth Lakes: It's the meadow-y, mountain-y wonderland that's just a tick under six hours north of here. (There are also daily flights on Horizon through September 30, too.) Besides all that glorious natural beauty, the area is known for going all out every Fourth of July.
What "all out" means: Outdoor concerts. Lake-close fireworks. Campfire programs and movie-watching under the night sky. An art show and picnics and a triathlon. A parade, too, and a pancake breakfast. And a man named "Fiddlin' Pete." We're sold.
Mammoth isn't just skiing: But that's a bigly chunk of it. A nice gentleman told us at the tourism office that skiing is available through July 5. Skiing on the Fourth of July. Best attach some colorful, patriotic streamers to your poles as you fly down the slopes.
Oh, and a hot dog eating contest: We'd frankly be sore if that was not on the list.
Nostalgia central: Come the Fourth of July, a lot of us want things to be perfectly parade-y. We want Popsicles and curbs to sit on and we want to wave at floats. Mammoth Lakes is an excellent place to find your ice cream dreams.
Follow NBCSanDiego for the latest news, events and entertainment: Twitter: @nbcsandiego // Facebook: NBC San Diego