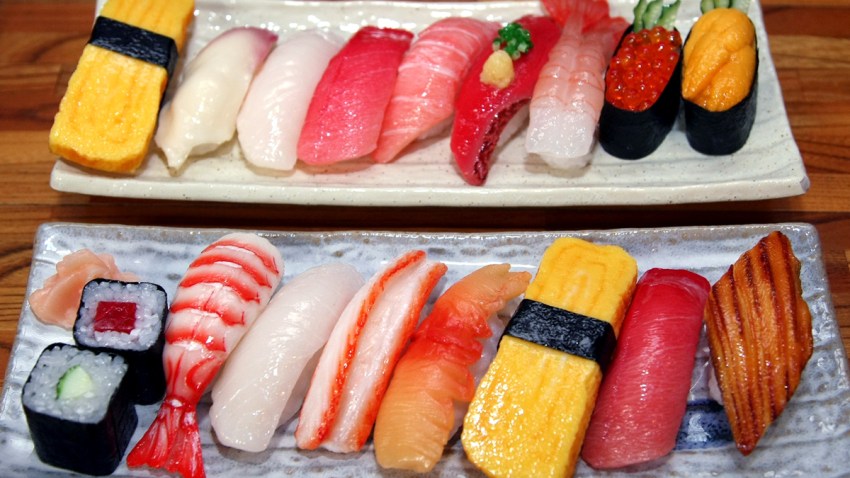 I have long believed the best "strip-mall sushi" came from a Mission Valley joint called Chiba (10435 San Diego Mission Road).
Down the road from Qualcomm Stadium, it's sandwiched between McGregor's Grill & Ale House and a tanning salon. If they don't serve the absolute best rolls, they definitely have the best-rolls-for-the-price of anywhere in town.
Or, so I used to think.
The owners have opened Chiba II (10645 Tierrasanta Boulevard). It's in the Tierrasanta Town Center, sandwiched between a Choice of Mandarin restaurant and an Albertson's grocery store. When I hear "Tierrasanta," my natural reaction is to ask, "Where?" The Town Center, however, has some culinary pedigree. It's home to former downtown mainstay Bud's Louisiana Café, home of the best strip-mall po-boys this side of the Mississippi.
Chiba II is more refined than cafeteria-cool Chiba. There are booths in Chiba II, two pristine flat-screen TVs and a dark brick wall in the back decorated by a clock whose numbers are replaced by sushi dishes. Kitschy, but it keeps accurate time.
The prices are strip-mall bargains. Basic eight-piece rolls sell for less than $4. I like the "tomato"—tuna wrapped around a rice ball and stuffed with spicy scallops. Something low-cal to check out: a special roll that replaces rice with a cucumber shell, which surrounds tuna, salmon, imitation crab meat, eel, mayonnaise and shredded tuna.
My hope is that a Chiba III is coming soon to a neighborhood near me.
Ron Donoho, formerly executive editor of "San Diego Magazine," is a regular contributor to NBCSandiego.com who covers local news, sports, culture and happy hours.
Copyright FREEL - NBC Local Media