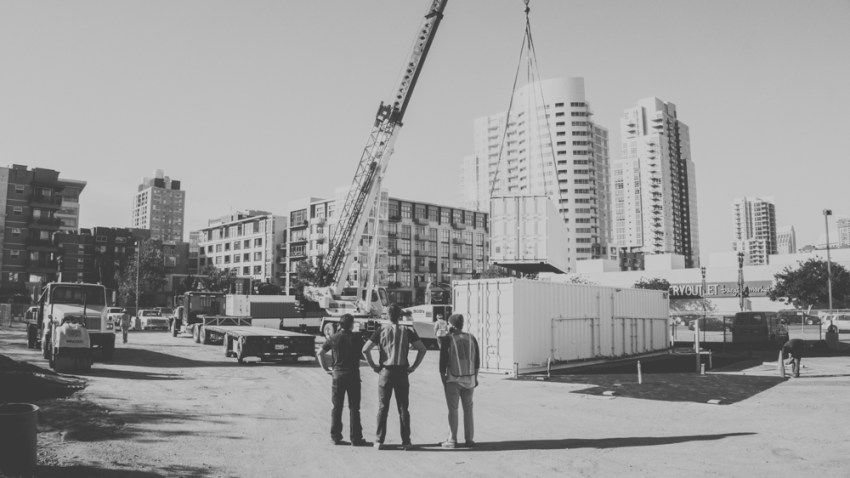 The time for temporary parks is now -- Quartyard, the once-vacant 28,000-square-foot lot in East Village at 1102 Market St., celebrates its grand opening as an outdoor beer-garden/restaurant/coffee shop/music venue/dog park/overall awesome communal space on March 7. And tickets are just $5.
The urban park comes to us by way of Rad Lab's Philip Auchettl, David Loewenstein, Jason Grauten (a trio of NewSchool of Architecture + Design alum) and contractor Adam Jubela. The project started two years ago as the master's candidates' senior thesis. The then-grad students saw this vacant lot across from the school that wasn't being put to use and had the idea to transform it into a communal space that could be put together and broken down relatively easily. The answer was in shipping containers. They took the idea past the thesis to Kickstarter, raising $60,000 in one month with little to no marketing -- the proof of concept was there. From there it went to investors, and now, on March 7, it becomes a reality.
The best of it all will be there, with craft beer, food from S&M Sausage & Meat, caffeine buzz by Meshuggah Shack and, of course, live music. First up to test the shipping container-filled space is L.A.'s Madi Diaz, whose high-pitched pop vocals are alternately matched by a trilling staircase of electro-synth toothpicks and smooth rhythms. Joining her are chillwave locals Swim Team, whose thundercloud sound floats atmospheric and ethereal. And there is much, much more to come.
The massive space (which fits about 1,500 people) is licensed for 48 live events every year, which may not sound like a ton, but Quartyard events coordinator Alex Collins said it's about quality over quantity. "It's actually kind of nice," Collins told SoundDiego. "We can be a little more discerning."
And by discerning, he means booking nationally touring indie acts that you might otherwise see elsewhere around town. But you'll see 'em here instead. Where there's food truck grub. And an outdoor beer garden. And an urban vibe. And a sweet fresh breeze. Collins, who's also with Salt Management, is hoping to bring something like Nashville's Live on the Green outdoor weekly summer shows to San Diego.
"Basically what I want to do is bring back a mini-festival idea downtown because the space is just so conducive to something like that," said Collins, adding that the space, which is family friendly, is suited for both all-ages and 21+ events.
Though Collins can't give any specific deets right now on who might come ("There are offers out," he said), he mentioned a few hot national acts as potentials, but confirms that Quartyard wants to maintain the neighborhood's feel.
"It's funny, because the cultural aspect of East Village is very different from the Gaslamp and downtown," Collins said. "So we're getting pulled in a couple different directions -- like the EDM club scene. This place is not that. We want to match the cultural vibe here."
Quartyard's grand opening takes place on Saturday, March 7, from 5 to 10 p.m., with music from Madi Diaz and Swim Team. The event is 21+. Tickets cost $5 and are available here.

Hannah Lott-Schwartz, a San Diego native, moved back to the area after working the magazine-publishing scene in Boston. Now she's straight trolling SD for all the music she missed while away. Want to help? Hit her up with just about anything at all over on Twitter, where -- though not always work-appropriate -- she means well.