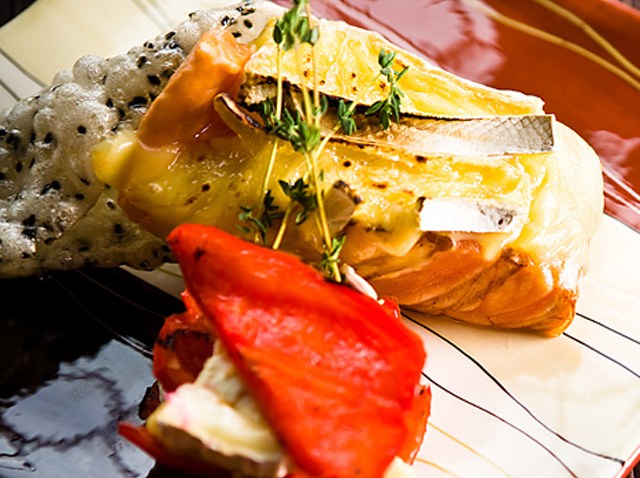 The San Diego dining scene is introducing a platter of irresistible new restaurants, according to DiscoverSD.

Dolce Pane E Vino - Rancho Santa Fe
North County foodies can't get enough of the new Dolce Pane E Vino wine bar and restaurant in Rancho Santa Fe, which celebrated a soft opening in RSF's Del Rayo Center in late 2009, and has since become a neighborhood favorite. Chef Chris O'Donnell is a firm believer in farm-to-table traditions, and makes daily trips to local farms to ensure the freshest ingredients every day. More details

Bencotto Italian Kitchen - Little Italy
"Bencotto" refers to a meal done well, or perfectly cooked. Bencotto Italian Kitchen's industrial space in Little Italy's "Q" building is definitely not well done; in fact, this raw, urban restaurant is designed just right. Bencotto serves hand -made "home style" dishes in an environment that reflects who they are: a young generation of Italians who celebrate their culinary heritage, presenting it in an inviting kitchen-style restaurant. More details

The Smoking Goat - North Park
North Park's new urban refuge is The Smoking Goat, a French eatery designed by Bells & Whistles that graced the local dining scene in late February 2010. Head to 30th to feast on the new design paired with such French-inspired menu items as Burger on Brioche, Steak au Poivre, and Homemade Vegetarian Lasagna. More details

Woodstock's Pizza - Pacific Beach
As of late February, 2010, Garnet Avenue in Pacific Beach is now the proud home of our county's newest Woodstock's location. Popular Woodstock's menu items include the Wildebread appetizer, Firebird and All Meat Orgy pizzas, and of course the multi-flavor Cinnabread desserts. More details

Proper Gastro Pub - East Village
As if we weren't already excited enough about the newest East Village Wine Steals, located just steps off the field at PETCO Park, with this new spring time hot spot comes the next door Proper Gastro Pub. Executive Chef Sean Magee's delectable small plates menu features such items as Pan Roasted Pork Loin with mushrooms and brussel sprouts, and Butternut Squash Ravioli served with amaretto butter, roasted chestnut and nutmeg crème fraîche. More details

Café Madeleine - South Park
From the owners of Vagabond comes South Park's newest dining destination: Café Madeleine – a French creperie with a menu envisioned by Patrick Ponsaty of Mistral at Loews Coronado, and formerly of BernardO. This French café will serve a wide selection of sweet and savory crepes as well as paninis, desserts, high-end coffee and tea, and an intriguing crepe salad. Café Madeleine in South Park is slated to open late March 2010. More details

Barrio Star - Banker's Hill
Isabel Cruz's new restaurant Barrio Star is a vibrant and energetic Mexican restaurant located on 5th and Nutmeg in Banker's Hill. Expect authentic Mexican food (including tamales), healthy options, and local artist renderings tattooed across the walls. Isabel Cruz's cuisine is most well known by locals for Isabel's Cantina, located just blocks from the waves in Pacific Beach. Barrio Star is aiming for an opening in late March 2010. More details

Bali Hai - Shelter Island
Bali Hai Restaurant is undergoing a $4 million transformation, boasting a contemporary redesign by Graham Downes, and a reinvented Pacific Rim menu by new chef Chris Powell, formerly of Rancho Valencia Resort. When opened in 1953, Bali Hai Restaurant was a paragon of mid-century American tiki culture. The new Bali Hai, slated to re-open in April 2010, will offer a stylish, modern take on 21st century island lifestyle. More details

Smash Burger - La Jolla
Seemingly riding on the coattails of Burger Lounge's incredible success and expansion throughout 2009 are three new burger joints coming to town. Smash Burger is launching its first San Diego location in La Jolla in March 2010. Five Guys Burgers & Fries is opening a second San Diego location in Liberty Station, with no available set opening date. Matt Spencer – of Firehouse, Syrah Wine Parlor and more – will release his newest vision Analog Music and Burger Bar in summer 2010.