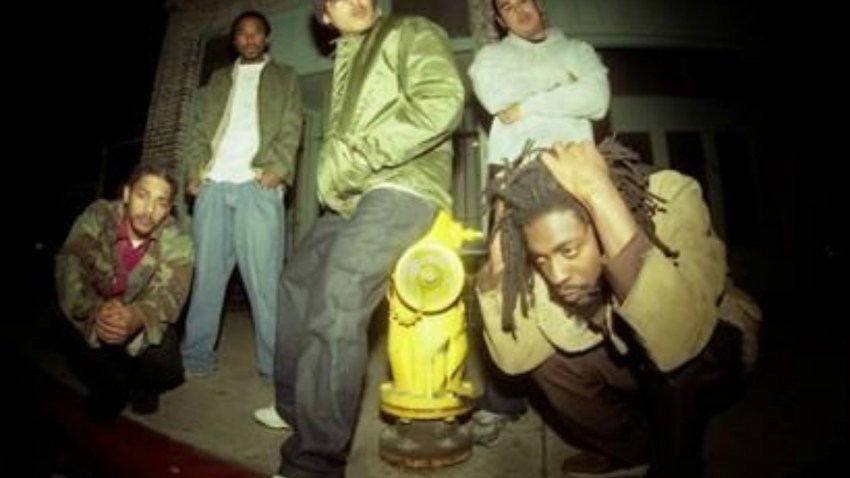 If the West Coast's pre-millennium indie-rap scene was as much about exploring new musical territory as it was about side-stepping the red tape of the music business (cutting out the middleman in favor of doing it yourself), then Mastas of the Universe took the movement one step further and declared "f--- the industry" entirely.
In 1994, they released "Microcrusifiction," a game changer that ushered in a new sound in San Diego hip-hop [listen to it here]. Some 20 years after its release, it also serves as an early document of some of San Diego's most influential rap voices. Hometown icon Orko the Sycotik Alien is all over it, and the 2014 San Diego Music Award-winner for Best Hip-Hop, Odessa Kane (then known as Matrix), makes a noteworthy appearance mid-way through.
Full of white noise and tape hiss -- with production value that registers more no-fi than lo-fi, "Microcrusifiction" is the DIY model in action as it epitomizes the groups' "f--- the industry" philosophy in theory and in practice. Everything from the hand-drawn cover art to the home-recorded, four-track sound -- it's all done on their terms and is arguably the starting point for alt-rap in San Diego.
Held together by moody beats, "Microcrusifiction" is dense and heavy with wordy raps and spoken-word bits. It is weed anthems ("Life of Riley") and battle raps ("Deep Impact") -- all from a group of rappers who, at the time, sound barely old enough to drive, vote or even buy beer.
"Microcrusifiction" is years removed from anything close to an MP3. But what's most interesting, even 20 years later, is how ahead of everything Mastas of the Universe were: A group of hyper-literate teens rapping about everything from telepathy and weed to metaphysics and Dennis Rodman. But even as an album that's full of quotable lines, it's more than an exercise in lyricism -- it's also a peek into their prodigious ability for writing hooks. They're not only gifted MCs but also talented songwriters.
They never broke on the scale of Wu-Tang, but Mastas of the Universe's legend and sonic imprint cast a long shadow, and it's all here on "Microcrusifiction," where some of San Diego's most forward-thinking rap pioneers had their early ideas take shape.

J. Smith, aka 1019, is a San Diego native, rap fan and one half of the rap duo Parker & the Numberman. You can follow him on Instagram at 1019_the_numberman or on Twitter