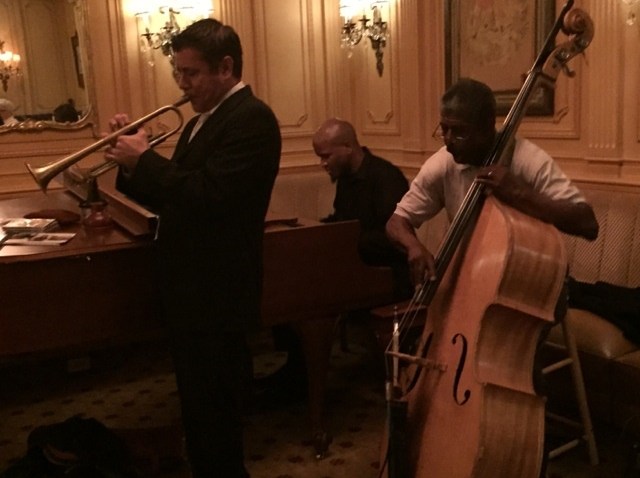 There are certain rooms that tend to encourage magic -- and in San Diego, no room encourages more of it than the tiny, acoustically pristine Plaza Bar at the Westgate Hotel downtown. Each Friday evening, trumpeter Gilbert Castellanos brings a different trio into the Westgate, and, without rehearsal or preparation or even charts, he leads by listening first -- and the degree of communication and intimacy engendered in these situations can only be believed by actually witnessing it for yourself.
I was expecting nothing less than a transcendent experience on August 7, when Castellanos convened with legendary bassist Marshall Hawkins and the ever-explosive piano man Joshua White.
I wasn't disappointed.
White had a notion to perform a rarely heard Thelonious Monk tune, "5-Spot Blues," so he sang the theme, while the leader verified the changes, all of this pulled off over whispers before the audience could even figure out what was going on.
Of course, none of this would have even mattered were it not for the glorious sound of three cats inhabiting the moment: Castellanos delivering a masterclass in the subtle execution of vibrato; Hawkins and White teasing rhythms through elaborate improvising schemata; and finally settling on a bowed bass solo that seemed to stretch the zenith of the creative mind.
Next up was "On the Trail" from the "Grand Canyon Suite," and from the beginning, one thing was perfectly clear: The ideal of intuitive communication was alive and kicking in this room. There were times I believed that each player had occupied the brain of the other -- that's how quickly the ideas were bouncing.
Castellanos is a master of the blues, and his plunger-mute essay on Monk's "Green Chimneys," exploiting gurgling multiphonics, dipped straight into the gutbucket without relief. White responded with amazing classical flourishes, all tied to the inevitable logic of true genius. Meanwhile, Hawkins traced his every move with a dogged yet joyous determination.
Taken at a pace slow enough to melt away hearts and inhibitions, Duke Ellington's "In a Sentimental Mood" was all smoldering romance, and the Hawkins solo that followed was so pure and intense that my eyes commenced to water. White and Castellanos each took the tune into the edges of the cosmos, but the spirit of Duke was never far away.
There's always been an adage in jazz that each solo should endeavor to tell a story -- that ideal was constantly in play at the Westgate, which became a sanctuary for communication at the highest level and a forum for real life stories.

Robert Bush is a freelance jazz writer who has been exploring the San Diego improvised music scene for more than 30 years. Follow him on Twitter @robertbushjazz. Visit The World According to Rob.